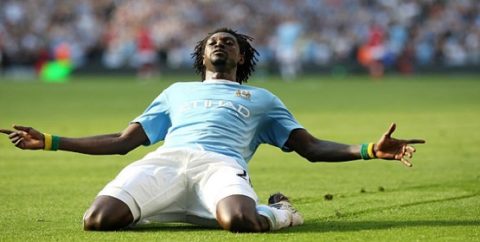 Adebayor played 142 Scored 62
His legacy will always be one of the most hated men to play for Arsenal. For so long it looked like it could be different as he spearheaded a young gunners squad in title challenges. At the time we would lack the experience to have the mentality to deal with the run in. Often our striker's loss of form would coincide with the pressure affecting us in April/May. Nonetheless his goal to game ratio was 62 in 142, which at 3 million is value. Hindsight suggests he would have got even better under Arsene Wenger's guidance.
To this day he will argue he didn't want the transfer to Man City but was forced out of the club, hence not deserving the abuse he received from Gooners. Whether that's true or not, he should give more respect to the club who gave him the chance to become as rich as he has. Whether it's our fan base, Mr Wenger or his ex-teammates he hasn't had a lot of positive things to say. He certainly enjoyed scoring against us and wasn't shy about returning in the colours of our bitter rivals.
Whenever he faced us, we quickly learnt he was unpopular with the likes of Vanpersie and Fabregas, perhaps why the club were happy to cash in. He hasn't come close to the scoring record he had with us, earning a reputation as someone who would play well during loan spells, then lose his form once a deal was permanent. Essentially instead of maximising his potential, he's chased money round Europe, currently plying his trade in Turkey.
The man has some fascinating stories to tell and clearly, he and his family have been through a lot, to the point where he can put the game into perspective.
He won't care what gooners think but he can't deny he was never the same player once he left.
Dan Smith