In December 2012, Jack Wilshere, Kieran Gibbs, Aaron Ramsey, Alex-Oxlade Chamberlain and Carl Jenkinson all signed new long-term contracts at Arsenal, with Arsene Wenger describing them as the club's 'British core'. Wenger gushed: "The plan is to build a team around a strong basis of young players in order to get them to develop their talent at the club."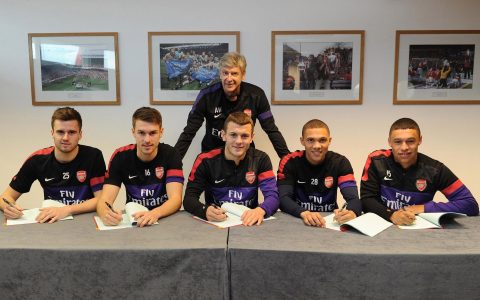 Five years on and it is now obvious that Wenger's hopes of these youngster's leading the Gunners to long term success in the Premier League has fallen apart. Jack Wilshere was supposed to be the star of the show, has played just 66 League games in the following 4 years since signing, scoring just 9 goals, and is now back at Arsenal and admitting that he "can't get a game" at the moment.
Kieran Gibbs never ever became a regular first teamer, and was sold this summer, along with Alex Oxlade-Chamberlain, who also played in fits and starts under Wenger and has managed only 16 goals since 2012. Aaron Ramsey is the only one that has really been a regular (or one of Wenger's 'favourites') and had one great season when he scored 16 goals but only totalled 21 over the other 4 seasons. Hardly world-beating form. And Jenkinson? Well, the less said the better….
So Ramsey is the only one that is really a sort of success story, and he has watched his English mates move away one by one, and lamented the loss of the Ox to Liverpool last week. "Another of our British boys heading on to new things. Not only have we lost a great player we've lost a great guy in the changing room," Ramsey wrote.
"It is sad to see you go mate. Had some great memories over the years playing along side you and I wish you all the best with this new chapter in your life."
Wenger's dreams have fallen by the wayside, and the British players, as well as the fans, have become disillusioned with Wenger's ability to spot and nurture the best of British talent. In fact in the Gunners first team right now only Iwobi and Bellerin have come from the academy to join Ramsey as semi-regular starters. This is not what Wenger was hoping for.
Well the dream was nice while it lasted.
Darren N