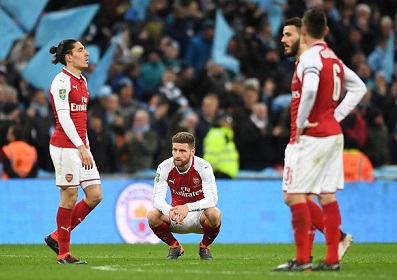 The players and the board need a hard look at themselves now. by Konstantin Mitov
Hello lovely Arsenal people. So let's jump straight to it, I was in such a rush to catch the Arsenal game, to see if something will magically change, like wizard from Hogwarts has cast a spell on us, and while some things looked a bit better, some things looked exactly the same.
The central defenders at this club are just shocking. Gary Neville was spot on, that they are uncoachable. The defending for the first Norwich goal highlighted everything about our defense. Mustafi was pointing at Luiz, who just let Pukki past him and then the ball hit Mustafi before going in the net.
We give players too much space and time on the ball, but when we try to attack them it's even worse. Our defenders can make any player look like Messi. I see Calum Chambers struggling at right back and nobody is helping him, because we have Auba on the wings and the DMs don't bother.
Sadly Xhaka was the best of the midfield, but the substitutions were atrocious just like the last game. What has Bukayo Saka done to get in in front of Pepe? Not that the former Lille man had a great start to his career, but surely if you need to pick one of the two, you'd go for Pepe right? Or at least bring on Martinelli first. Saka was a terrible sub and all he did was lose the ball like 5 times in 6 touches.
Then Torreira again. I mean Guendouzi was poor, but are we trying to win the game or hold a draw? The new Arsenal manager has an incredibly difficult job. This goes far beyond steadying the ship. You practically have to build a new one before you drown on your current wreck. The board need to make a very good appointment. Emery was their project and it failed, now they can't afford another mistake.
As much as I love what Freddie did for us as a Player, we must remember that he was a part of this structure that failed. He doesn't fit the job in any respect, apart from knowing the Arsenal DNA, but Arsenal has changed dramatically for the worse since he last played for us.
I personally would like to see someone who'd spend more time talking to the players and giving instructions during the game. Someone with more charisma. One who'd come in with a bang like Klopp did at Liverpool. Sure he didn't start winning straight away, but he gave the club the shake up it needed.
We need someone who can organize a team of players who've been doing whatever they want, and got away with it for years. These player sacked Wenger, then Emery and now whoever comes will have serious doubts and demands before taking over.
Let's be brutally honest, we are an average club. Most of the players need to be replaced sooner rather than later. For me the likes of Allegri and Pochettino will not chose Arsenal as their next job. If I'm Brendan Rodgers, I'll see little reason to leave Leicester for Arsenal right now too.
Ideally I'd like Allegri, because he'll bring in some feel good factor with him. He'd immediately add some sense of belief for the better future. He'd command respect and he's managed to get the best out of Milan and Juventus on low budgets.
But I don't see how we convince him, and he also doesn't know English which was one of Emery's downfalls. And what he achieved was in Italy, and England is a very different beer. This is why we have names like Arteta on the list, who'd be a massive gamble. Being a good coach and a number 2 is a completely different story from being the main man.
In my view probably the best option we have right now is Rafa Benitez. He'll bring in experience and he'll definitely try to build an organized squad. What's really sad is that we don't have the permanent replacement lined up already.
It feels like we're caught by surprise again. Poch was sacked and boom Mourinho was in. The new man has to come before January and some signings will be much welcomed too. In defense especially, where pretty much anything will be an improvement.
Those players better realise they are playing for their careers, cause if you are so bad at Arsenal, you're never seeing a top club come in for you again. They should hide no more and accept that their performances are nowhere near good enough and pick it up (if this is even possible with some of them).
Sacking the head coach was the necessary decision, but it was also an easy one, dictated by results. Now comes the real difficult question of how to improve? And it's time the power battle at Arsenal on board/director level to be put on the side for the best interests of the club. In fact this should be for both players, fans and the manager (temporary or permanent).
We have Brighton on Thursday, and it won't be any easier. We're struggling against the bottom teams,which is a clear sign of an average club, but it's the Emirates and we simply must win. We must unite, get behind Freddy and the team, and hope they for once do not disappoint us. And also hope the board line up a good manager as soon as possible…
Konstantin