Arsenal FC's FA Cup defeat was a blessing in disguise… by ED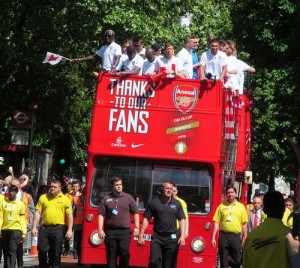 I was called delusional for predicting Arsenal FC's downfall at the beginning of the season In one of my articles, there is no point being smug about it, Arsenal capitulating during a season has been done so many times one might refer to it as being cliché. Yet for some reason, despite there being no significant change in terms of the running of the club, people still seem to show a level of optimism that can only be reserved for an inmate on death row (in the sense that you know what's coming but yet you still believe?)
Crashing out of the FA cup, I believe, will serve as a blessing in disguise for Arsenal. The reality of the situation is that we are no longer in competition for any major piece of silverware… Yes we're out of Champions league, the game at the Nou camp is merely a formality, putting 3 goals passed Messi and co, now that's delusional!!
Point being I, for one, have had enough of the 'season of false hope', just because of a slightly strong finish in the Premier league towards the end when mathematically it became impossible to win it and we were playing for nothing. Because we won the FA cup it had us thinking that we could consider ourselves back as a dominating force in not only the Premier League, but European Football as well. The loss against Watford – although I was gutted, I am glad at the same time, because questions are going to asked, namely 'why when we were in such a strong position at the beginning of the season did it end up so bad' and, secondly, 'with a year remaining on his deal is it really worthwhile keeping Wenger on?'
I said under Wenger we've flat-lined, a problem people who got caught up in the nostalgia of winning the FA cup can't see for some reason. The thing is, the only reason we won the FA cup twice is because we had already screwed up our season twice by that stage. We were pretty much out of Champions league, meaning the only plausible bit of silverware was the FA cup, yet we celebrated it as if it where the opening of a new chapter for Arsenal, despite the fact that clearly we had been unable to perform in the Premier league at all and showed absolutely no sign of any improvement the following season.
I can guarantee you with the highest degree of certainty that the exact same thing will happen to us again next season should Arsene still be at the helm. But the one thing I will never understand is why some people refuse to believe this, it seems to me as if most people on this site may genuinely have 'Stockholm syndrome', because the fact that you say 'in Arsene we trust' despite the fact that the last 6 six seasons (I'm talking about the premier league only) have been a complete and utter catastrophe and in which he has done nothing but; completely ignore fans frustrations; fail to address squad needs on numerous occasions; ignored the advice from other footballing experts, and yet you still want him in a job. Quite literally the irrational feelings of affection despite being taken on the biggest ride of your life in which you have absolutely no say in where the team is going (being held captive) is the literal definition of the illness.
Eddie D