Stats show Arsenal trio a match for Spurs' Eriksen, Dele & Kane by Russell Cane
Mesut Ozil vs Christian Eriksen, Alexis Sanchez vs Dele Alli, Alexandre Lacazette vs Harry Kane. Arsenal and Tottenham are awash with attacking talent but when measured statistically, how have they compared in the Premier League this season?
Ahead of this weekend's North London derby, Oulala.com have taken a look at how Arsenal's star-studded attacking trio; Mesut Ozil, Alexis Sanchez and Alexandre Lacazette compare to Tottenham's front three of Christian Eriksen, Dele Alli and Harry Kane.
Mesut Ozil vs Christian Eriksen
Ozil and Eriksen each lead one-another in three of the seven key areas analysed.
The German has registered more key passes (3.3) and completed more successful dribbles (0.9) per game, as well as recording a superior pass completion (86%) when compared to the Dane.
On the flip-side, Eriksen leads Ozil for shots (2.6) and passes (56) per game and has scored more goals (3).
With each registering two assists, the duo cannot be separated statistically.
WINNER: Draw (3-3)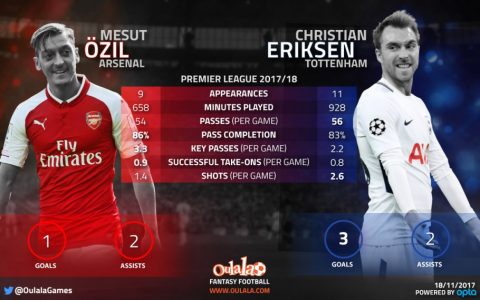 Alexis Sanchez vs Dele Alli
Sanchez beats Dele in five or the seven key areas analysed, with the 21-year-old leading in two.
The Arsenal forward has recorded more passes (36), key passes (2.5), successful dribbles (2) and shots (3.3) per game, while also producing more assists (2).
However, Dele tops Sanchez for goals (3) and pass completion (79%).
WINNER: Alexis Sanchez (5-2)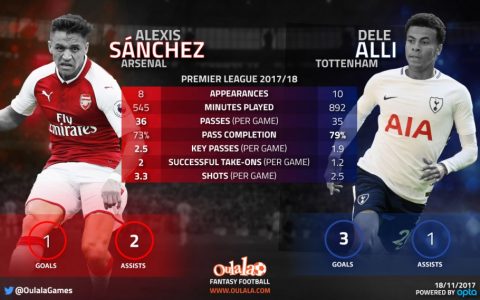 Alexandre Lacazette vs Harry Kane
Kane beats Lacazette comfortably, taking five key stats compared to the Frenchman's two from the seven analysed.
The England striker has made more key passes (1) and had more shots (5.9) per game, scored more goals (8), registered more assists (1) and has taken fewer minutes (97) to be directly involved in a goal for his side.
Lacazette has been the more accurate and clinical of the pair, boasting a superior shot accuracy (71%) and conversion rate (27%).
WINNER: Harry Kane (5-2)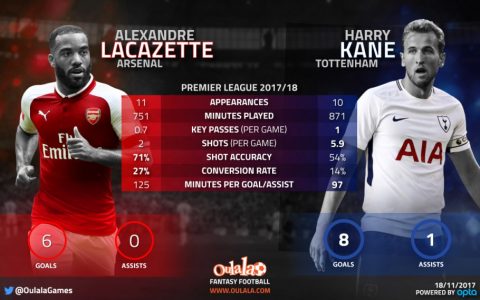 Oulala Score Prediction: 2-2
It's been eight years and 20 matches since Arsenal and Tottenham ended goalless and with a number of injury doubts concerning key defensive players such as Shkodran Mustafi (Thigh), Hugo Lloris (Groin) and Toby Alderweireld (Hamstring), Arsene Wenger and Mauricio Pochettino may have to reshuffle their back-lines presenting a potentially open North London derby.
Russell Cane