So despite us all having seen the leaked pictures of our new PUMA home kit with the pink armbands, it has only just now been officially unveiled by Arsenal on their official website.
Of course the announcement came with lots of pretty publicity shots, most of which had also been linked previously like this one…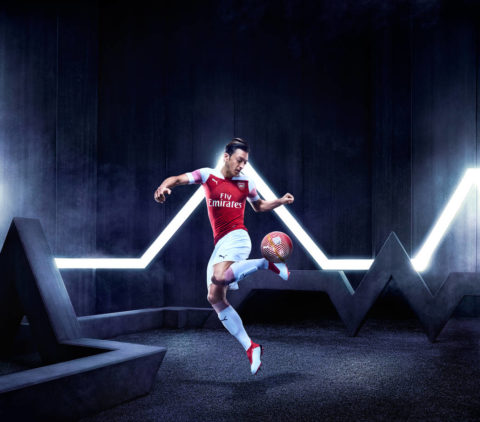 But now just a day later we also find out that the pink armband will be featuring the words "Visit Rwanda" for the next three years. This is another moneymaking scheme dreamt up by Gazidis and his team, and although it is sure to be bringing ion many millions in sponsorship payments, I am not sure that it is really relevant to Arsenal fans.
I guess it is not too intrusive, but I am not too sure whether there will suddenly be thouands of Arsenal fans booking their flights or deciding to open new businesses in the African country, but I guess you never know! Anyway this is what it will look like….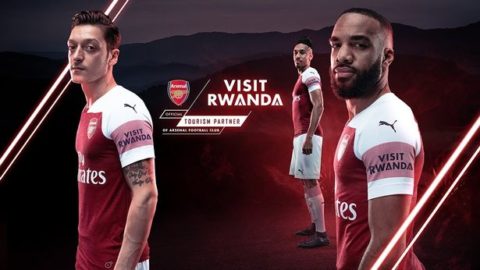 So as this deal is to raise awareness of Rwanda I will add the comments from the Rwanda Development Board chief executive officer, Clare Akamanzi, who said: "We're thrilled to be partnering with Arsenal and showcasing the vibrancy and beauty of our country. Rwanda is a country pulsing with energy, creativity and innovation.
"Visit Rwanda and discover why we are the second fastest growing economy in Africa. Investors in Rwanda are able to register their businesses in only six hours and prepare to enjoy the opportunities accrued from the free trade agreements that we've signed with over 50 countries.
"Renowned for our incredible and unique Mountain Gorilla tracking experience, tourists can also enjoy a variety of water sports, cycling, hiking, bird watching to list a few of the tourist attractions available while in Rwanda."
Well every penny counts when Arsenal is trying hard to keep up with the moneybags Big Boys in the Premier League, but do you think this is just a little bit of capitalism gone mad?
Admin