Arsenal Change by Sean Gallagher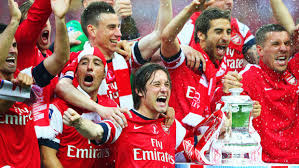 Arsenal are at a pivotal point in the season where success can either be seized upon or it escapes the grasp. It seems that Deja vu has struck again and Arsenal's Achilles heel (Imploding under pressure) has come back to haunt and infuriate expectant fans. Has Arsenal's attitude and philosophy at Board level really changed? The signings of Mesut Ozil and Alexis Sanchez were to be the catalyst for a realistic assault on the Premier League. At that time fans expected a new era was being ushered in where Arsenal would not only compete to sign the world's best players but they would actually sign a number of them on a consistent basis as part of a new long term strategy.
It could be suggested that these two signings merely disguised the teams reoccurring mental deficiencies. The overall playing quality of Arsenal was never really an overriding issue with the team capable of beating the most formidable of opponents, consistently labelled the best passing team in the country. In 2008 Arsenal were favourites by many to be crowned Premier League champions, but then their challenge became quickly derailed with the injury of Eduardo. Not merely due to the fact that Arsenal lost a key player, but the mentality of the team faded and lower opposition exploited this weakness.
Even in the current season Arsenal defeated Bayern Munich 2-0 at Home in the Champions League after an extremely convincing performance of team strength. However, the euphoria and aspiration inspired by such a result has long been diminished. Having been beaten by a noticeably weakened and underwhelming Manchester United team, and being humbled by Swansea, it cannot be ignored that Arsenal have an alarming track record of underperforming when it matters most. In a season as unpredictable as ever, the only familiarity is Arsenal having a great opportunity to gain the initiative which is then thwarted by their own reckless negligence.
Surely fundamental change is needed to eradicate this naivety and soft mentality which compromises any faltering hopes of success. What excuse does Wenger now have? Arsenal is being vastly out performed by Leicester and Tottenham Hotspur who have both displayed remarkable consistency in the face of adversity. A top club with such a strong international fan base and rich financial resources at their disposable would surely demand success. Although unethical and at times too extreme, Chelsea's pursuit of success has worked. It is clear that silverware is the number one priority. It is not to suggest that Arsenal mimic Chelsea's ruthless strategy, but there must be an acknowledgment that a top club needs to demand trophies, anything else is simply not good enough. That is the mentality of any top team and any top athlete. In sporting terms what glory is there for Arsenal to celebrate in achieving a top four position and continuing to reach the last 16 of the champion's league?
When will they want more? When will they evolve to fulfil all the potential that they have? At the moment it seems that they have squandered the chance to do so yet again. Not because they're not good enough but because the very mentality of the club is poisoned. Sport fundamentally is about competitiveness, passion and desire, no matter what level. Arsenal, an elite club at the elite level simple don't embody these vital components of success. Of course it can be proposed that Arsenal enjoy more success than most clubs. That is undeniable but the deadly sin is that they don't push to be more, which is what football is all about. Football makes us dream and can provide sheer ecstasy. It is a theatre which offers drama, pain and euphoria. Leicester have scrambled to the top of the league through unbelievable passion and desire. Yes they have quality, but realistically this is small in comparison to the big forces in England. PASSION, BELIEF AND HUNGER is what any team needs to execute to even be considered to challenge.
With this distinctly absent from the Arsenal team success will continue to be something fans can only dream of.
This is about more than disgruntled fans and vast cumulative underspending. This is about a club which continually disappoints over-paying fans with a hollow promise that next season will be different. Has any year really been different in the past eight seasons?
Sean