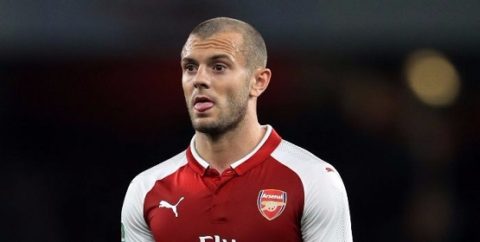 So, this week I gave our academy team a massive pat on the back. Three graduates from our youth set up started at Newcastle while it developed Alex Iwobi which made the club 35 million. So, in celebration I have reviewed the Premiership era to see our greatest success stories from the Arsenal Academy. These are men who showed up in North London as teenagers or even young children. Any individual who breaks into the squad is a job well done, the fact everyone on this list went on to win trophies means a job very well done.
Jack Wilshire (2 FA Cups, 1 Community Shield)
Injuries meant that he didn't become the future captain/superstar for club and country we all believed at the time. Fitness issues meant he was a sub for the two FA Cup finals he won, while he missed the Chelsea Final due to being out on loan. He did everything in his last year with us to prove he could still be an asset for Arsenal and England. Gareth Southgate didn't take him to the World Cup while Unai Emery explained the midfielder would not be in his first team plans, despite agreeing to a pay cut. If he can't stay fit at West Ham, he may have to retire young?
Kieran Gibbs (2 FA Cups, 2 Community Shields)
As a lifelong gooner it must have meant the world to him to help end our trophy drought. 2-0 down to Hull, headed the ball off the line to keep us alive in the FA Cup final. His emergence meant Arsene Wenger was happy to sell Clichy, but the left back could never stay fit for a whole season, meaning he eventually lost his spot to Monreal. He stayed too long and was one of many in the squad who stagnated, seeming too comfortable. He chose West Brom over Watford, a decision which means now he's in the Championship.
Bellerin (2 FA Cups, 2 Community Shields)
Injury to Debuchy gave our young Spaniard a run in the team, with Arsene Wenger trusting him to start a Cup Final in his first senior campaign. He seems to be affected more than most by the backlash Arsene Wenger received from our fan base. Was badly let down by his senior peers who needed leadership when he lost his confidence. It seemed Unai Emery had improved that with the full back's final ball improving. We have missed him while he's been injured…
Coquelin (2 FA Cups, 1 Copa Del Rey)
The story goes that a loan to Charlton was going to be made permanent until we suffered a midfield injury crisis. It was then that Arsene Wenger realised he had a midfield enforcer under his nose the whole time, with the Frenchmen earning a new contract and starting that years F A Cup Final. He returned to the Emirates when we knocked Valencia out of the Europa League but got the last laugh when he ended up with a winner's medal, beating Barcelona in the Copa Del Rey.
Paul Merson (2 League titles FA Cup, League Cup, Cup Winners Cup, Division 1, 1 Community Shield)
He was the creative flair in an otherwise squad famous for being defensive, well drilled and organised? Admitted dropping down a division in 98 dus to wages Middlesbrough were offering, but also may have not been receptive to the dietary requirements/training regime that Arsene Wenger introduced, with Highbury having a drinking culture for years. At an old age he was still showing off his flair, proving inspirational for Harry Redknapp at Pompey, who man-managed him to perfection.
Keown (3 Premierships, 3 FA Cups, Cup Winners Cup, 3 Community Shields)
The kind of personality/leader our dressing room had been crying out for years. He wasn't going to be bullied or intimidated by anyone. Replaced Bould as part of the famous English back 5, who were instrumental in teaching the foreign players the values and standards of the club. Like many, he credits Arsene Wenger for extending his career by introducing revolutionary diet and training methods. At 37 he was still playing enough to qualify for a title medal
Ray Parlour – 3 Premierships, 4 FA Cups, League Cup, Cup Winners Cup, 3 Community Shields
No player has played more in the Premiership for us. Was nicknamed the ' Romford Pele' out of a way to acknowledge the lack of recognition he was getting from the media. Every title winning squad needs a Parlour, someone who makes up for his lack of technique with his work ethic.
Tony Adams (4 titles, 3 FA Cups, 1 League Cup, Cup Winners Cup, 2 Charity Shield)
Classic example of what happens when 'one of your own' makes it to the big time. 'Mr Arsenal ' bought into the values of the club to the point that when Man United showed interest, he said 'why would I leave the Arsenal?'. His understanding with his defensive peers unrivalled, his performance even more remarkable when you learned the demons he was facing. Not just a great defender but an inspirational story. Given how much Arsene Wenger did to help him, it's a shame the two couldn't have come back to work together.
Fabregas (2 Premierships, 2 FA Cups, World Cup, 2 Euros , la Liga, Copa del Rey, League cup)
Unfair that we nurtured his talent, yet he only won an FA Cup with us, not a true reflection of how good he was at the Emirates. He represented a change in Arsene Wenger's approach, picking smaller built but skilful players. He captained a young squad who needed experience, and that is the only reason he won more elsewhere. He did want to come back after leaving Barcelona but we chose not to activate his buy back clause.
Ashley Cole (3 Premiership, 1 Champions League, 1 Europa League, 1 League Cup. ,7 FA Cup)
Should have captained us during our transition from Highbury to the Emirates but felt under-appreciated by our board. In terms of money and trophies he vindicated his choice to go to Chelsea, but was more exciting at Highbury. His understanding with Henry and Pires on our left side was instrumental towards our Invincibles season.
Dan Smith