Though Arsenal's attack is packed, there is a belief that if a quality dedicated hitman can be signed, Arteta won't think twice.
In this endeavour, there were reports a few weeks ago that Arsenal have their eyes on Atalanta's young hotshot Rasmus Hojlund.
The Norwegian is one of the most promising Serie A strikers, and there is a market shaping itself up for his services. Arsenal are among the sides that could go all out to get him on board, but that could be the case if the striker doesn't listen to his former Christian Ilzer coach's advice. The Sturm Graz coach, speaking to Tuttomercatoweb, said: "There can be a comparison between Rasmus and Erling Haaland. In some characteristics, they are similar.
"Both are very fast; they also share determination and the desire to always score. Both Hojlund and Haaland are two very positive youngsters and have great confidence in their abilities.
"I'm really happy that Hojlund managed to adapt so quickly to Serie A and became an important player for Atalanta.
"I think he is probably already ready to move to an even more important club. However, we must always remember that he is 20. I think that, in Bergamo, he has a coach like Gasperini who believes in him a lot.
"He can count on a team that has been doing really well for years. And therefore, it wouldn't be bad for Hojlund to stay at Atalanta.
"Indeed, he can further confirm his potential and become one of the best strikers in Serie A. I think that remaining with (Atalanta) is a positive thing for his growth.
"No matter what happens, Rasmus' rise to become a top European forward will not stop."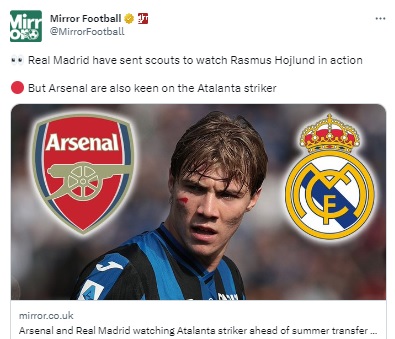 With how Arsenal have been high flying this season, playing some of their finest football in years while battling for top glory, who wouldn't want to join them?
If Hojlund wanted a coach who could get the best out of him, Arteta could be that person.
Source- Mirror