There was some bad news for Arsenal on the injury front today, with both Jack Wilshere and Alex Oxlade-Chamberlain not due to be available until after the international break at the earliest, so they won't be able to help us in the Premier League against West Ham or Newcastle and will play no part in trying to overturn the Champions League defeat in Monaco.
The manager had some good news as well though, as he revealed the club captain Mikel Arteta is back in training earlier than was first thought and could be ready to play after a few weeks of training to get his fitness back.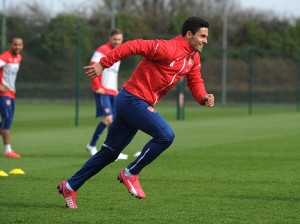 .
The Spanish midfielder is clearly delighted to be back on the training pitch after missing most of this season, but I wonder how soon it will be before he actually gets back into the Arsenal teams, because things have changed in his absence.
Not only has young Francis Coquelin been playing a blinder since Wenger recalled him from Charlton, but Santi Cazorla has been dropped back and proved that he has the tenacity and tackling ability to thrive in a deeper lying role.
Looking at our fixtures from April, it is hard to see when Wenger will start with Arteta. Not at home to Liverpool or away to Burnley as they are likely to be high tempo and physical games. Perhaps an FA cup semi against a lower league team would suit Arteta, where his passing and vision would help us to set the tempo and aid our attackers.
Then you have Chelsea at home, Hull away, Swansea at home, Man United away and West Brom at home. Arteta is out of contract in the summer and will want to prove to the Arsenal boss that he should get another, but when will he get the chance?