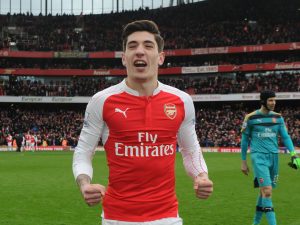 There are hundreds of differing opinions on what will happen at Arsenal if Arsene Wenger decides not to sign a new contract extension at the end of the season, and one of those is that the new manager will possibly want to have a clearout and rebuild the side in his own image. Can you imagine the war chest the new boss would have if we sold Alexis Sanchez and Mesut Ozil? Those two would be fetching extremely high prices if put on the market next summer.
But then imagine if Barcelona, who are desperate to get Hector Bellerin back, come in with an enormous offer, which they would need as Hector is only 21 years old and has just signed a new long term contract? Barca have not yet found a capable replacement for Dani Alves who left last year, and it is being reported in El Mundo Deportivo in Spain that Luis Enrique is extremely keen to try and tempt Bellerin back to his home town again.
Wenger made it very clear that Bellerin was not for sale last year when he persuaded the young Spaniard to sign a new six year extension to his contract, but Barcelona just think its a ploy to get a massive transfer fee if they come in with an offer, and they think that Hector and Arsenal are more likely to be amenable to cashing in if Wenger decided not to renew in the summer.
Arsenal may well get a massive fee, but we don't really have anyone capable of covering our scintillating right-back. We have Carl Jenkinson and Matthieu Debuchy but it is obvious that Wenger don't have faith in them as they tried to offload both of them this January. We certainly can't consider Gabriel as a reliable back up can we?
Admin