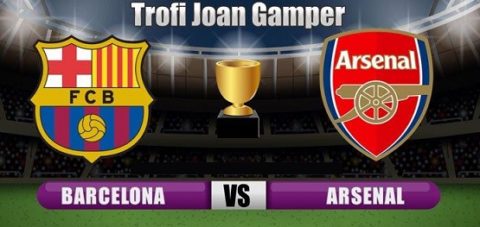 Barcelona 2-1 Arsenal – Player ratings By Sean M
Leno 7 – Solid. One spilled shot but was otherwise one of our best players.
Maitland-Niles 5.5 – What did Emery say to him at half time?? Had a great first half both defensively and offensively but came out at half time a different boy. Some poor passes and bad decision-making followed by that own goal. I'm a fan of the kid and genuinely think he could develop into a great full back but games like this won't help his confidence.
Sokratis 7 – I only remember him pulling one of his Greek wrestling moves in the first half. Otherwise, marked tightly and was good in the challenge.
Chambers 6.5 – Less composed than his fellow centre back. One or two poor touches but generally dealt with the wandering Griezmann well
Monreal 6.5 – Ran his socks off and did a pretty good job of keeping Dembele at bay in the first half. Misses out on a 7 because of his hot-and-cold attacking contribution.
Xhaka 5.5 – Spent most of the first half shouting at the screen. Defends like a rugby player, has the attention span of a 5-year old kid with ADHD
Willock 7 – Had a solid game. Not much of note except a goal-line clearance but often managed to do Xhaka's and his own job. This is definitely his season to break through.
Ozil 6 – Great assist but this isn't Football Manager; he isn't getting a 7 for one good pass. Was a passenger throughout and most of his contribution was to slow play all the way down, run out of options, then pass back. Was utterly ineffectual out wide in the second half. Surely can't play a big role this season.
Nelson 6 – Looked a lot nervier today. Hesitant to take on his man and suboptimal decision-making throughout the first half. Generally has great ball retention, pace and quick feet. The boy needs confidence which will come through game time.
Aubamayang 7.5 – Hungry. Always running, always stretching the defence and what a superb finish! It bodes well that, even as his pace deteriorates with age, we have a clinical finisher in the team (most of the time).
Mkhitarayan 6 – Had a rubbish first half, spending most of the time wandering around lost and misplacing passes. Improved in the second half, drawing several fouls but I think Nelson should get the nod over him.
Subs
Guendozi 6 – Good solid game with only one or two panicky moments. Otherwise good distribution and decent under pressure.
Kolasinac 6 – Didn't really do much. We were under the cosh in the second half so he didn't get much of a chance to attack, but didn't do much wrong.
Ceballos 6.5 – Didn't have much time to make an impact but had great feet and a solid pass. Look forward to seeing more of him over the season.
Saka N/A – Looked sharp and dangerous. Most notable contributions were two passes, one cleverly bent round a CB almost reaching Auba.
Martinelli N/A – One decent chance volleyed wide and a few bursts.
Torreira N/A – Too little time to make an impact. Hope to see him in the first team in the coming weeks.
Nketiah N/A – Also looked hungry and battled well.
Young lads looking very promising, especially Willock. The usual suspects were rubbish. First XI won't emerge until late October I imagine. Arsenal still not looking too comfortable playing out of the back. Overall, a game we could've won away against a great team. Bring on Newcastle!
Sean