This is a very weird season for Arsenal transfer rumours. I can't remember ever seeing so many of our players being linked with moves away from the club. It's like the uncertainty over Arsene Wenger's contract has made it open season for other clubs to try and poach all our best players this coming summer.
We can't say we are not used to the Bellerin to Barcelona rumours popping up, but I would have thought that his new five-and-a-half year contract signed just a couple of months ago would have nipped them in the bud, but it could also be interpreted as a ruse to get as much as possible from the Catalan club when the bids finally come in.
Well according to Sport in Spain, they are so certain that Barca have already commenced negotiations with Arsenal that it has been plastered all over yesterday's front page….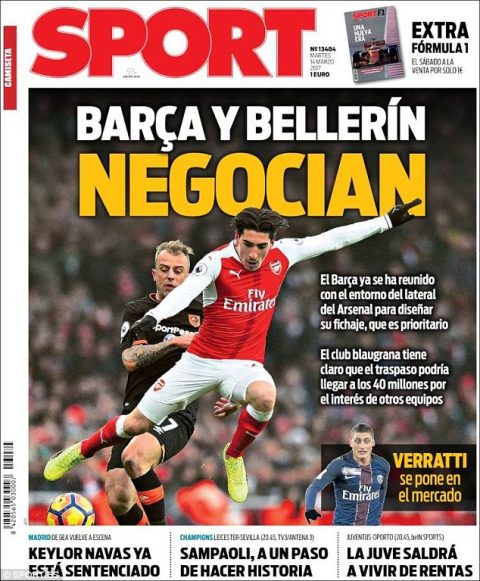 The are saying that our young Spaniard is their priority signing this summer, and then they say that the transfer fee could reach 40 million euros due to interest from other clubs… are they having a laugh! Try doubling that at today's prices!
Could this just be the first step in a classic Barcelona "tapping up" ruse, by leaking false stories to the press to unsettle the wanted target, or could there be some truth in it?
As if we don't have enough rumours concerning Ozil, Alexis, the Ox and the list of players that haven't signed contract extensions, so are much more likely to be allowed to leave than Bellerin. The way it's going if a new manager does come in half the team is going to need replacing….
But can you imagine how much of a war chest he will have if we make all these rumoured sales?
Admin