Arsenal's little spanish maestro Santi Cazorla was the jewel in Wenger's crown for many years until he was cruelly injured and he has since gone through a hell that has seen him sidelined for over a year, undergo countless operations, contract gangrene and nearly lose his foot. Because the wound kept getting re-infected the surgeons nearly had to amputate his foot completely but saved it by removing 8 centimetres of his tendon and grafted a patch of skin from his arm to cover the scars.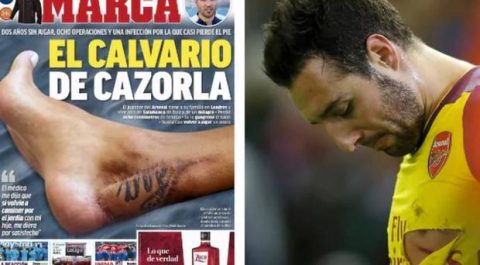 But no matter how hard it muct have been, Cazorla has been determined to get back to fitness and to try and regain his place in the side, but considering the Spaniard will be 33 next month he is surely fighting a lot cause. Arsene Wenger has tried to keep positive as well as he said recently: "The first signs are positive, but still he has not played for one and a half years."
"He is not in full training yet, he needs a few games with the reserve team. So I think if all goes well, it will be after Christmas."
But don't you think that we need to be realistic here and admit to ourselves that we are unlikely to see our hero playing competitively for Arsenal again…..
Darren N