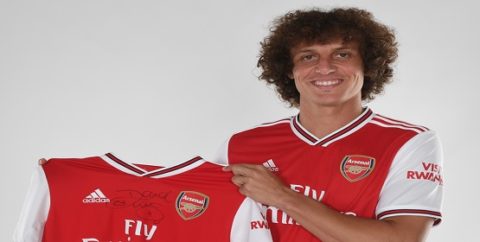 Can David Luiz Play in a flat back 4? By Dan Smith
One of the things that irritated me about Unai Emery's first year in English Football was his insistence to play a back 5. With 2 DM in front we were relying on 3 offensive players to win us a game, going against our principles and making it unclear what our DNA was.
To be fair it seemed our manager was simply finding a system that got the best of what he had, in particular the attacking potential of Kolasinac and Maitland Niles. It's not like either were contributing so many assists though that they warranted the formation, and it soon became clear it was a case that neither were trusted defensively in a 4 rather than their attributes the other way.
I wrote so many times that if you have to change a system because you can't trust your full backs to…um …. defend !…. they don't belong at this level.
It's why I think Tierney will make us so much better, as you can trust him both going forward and backwards in a 4 or a 5, starting on the left or the right.
We should never be sacrificing an attacker for a centre back and yet the signing of David Luiz tells me Emery might still be considering it.
Chelsea fans have been very angry the Brazilian pushed for this move so soon after agreeing a new contract, yet I don't think it's sour grapes when they suggest you have to have 2 next to him for him to excel. Ironically it was an embarrassment at the Emirates which convinced Conte to move to a 3-5-2, a change which led to a title with Luiz a standout.
Don't get me wrong, there is positives to the idea. His ability to travel with the ball and pick a pass might suit the style Emery was trying to introduce. But not at the expense of not having Auba, Laca and Pepe up front?
Is Luiz better than Koscielny in a 4-4-2?
Short term, with who's absent this weekend 5 at the back makes sense but long term can we trust Luiz in a flat 4? I don't want another year of sacrificing attacking players to patch up a defence.
I would rather try and outscore the opposition then start with 7 defensive players.
Dan Smith
ARSENAL'S TOP FIVE GOALS AGAINST NEWCASTLE