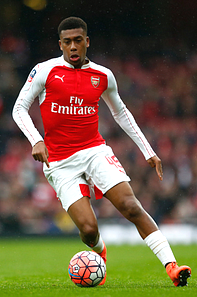 The Nigerian international Alex Iwobi was promoted to Arsenal's first team at the beginning of last season, and he was unusually given a fast track into the starting line-up.
For most of the first half of the season he was a regular starter but despite getting 3 League goals and 3 assists in 18 appearances (and 8 as sub), Wenger didn't think he was contributing enough to keep his place when the boss changed our formation to 3-4-3 and he was sent back to the U23s.
Wenger brought him back this season but he has still only made 3 appearances with a return of 2 goals and 1 assist so far, including one against Brighton at the weekend. Is this a sign of large improvement for the 21 year-old?
Le Prof is hoping to see a lot more from the youngster in this campaign. "I think he's a kind of player who has a good availability," Wenger said. "He helps you a lot to get out of pressure when you are in a build up game and creates spaces.
"What you want from him is final balls and goals as well. A player like him must score 10 goals and he must as well give between six and 10 assists and that's what I want from him."
So is Wenger warning Iwobi that he needs to up his game to retain his place? And is this a realistic target for Alex?
Admin