Think about the profit/loss record before backing Arsenal blindly by Ben
The Champions League final and the Europa League final will be all English affairs and that means we can expect fans from all four clubs to be placing a significant number of bets on their team.
Liverpool fans will be very confident that they will lift the Champions League trophy but fans of their opponents Tottenham will be just as confident even if they are significant underdogs.
The Europa League final, in terms of the betting odds, will be a much closer affair between Chelsea and Arsenal and again, you just know that the fans from the respective clubs will go in heavily backing their own team.
And that has got me thinking, does it pay to support your team blindly in every game or is it the quickest route to the bankruptcy court and divorce.
Of course, the fans from the four finalists will back their teams regardless but how many of them even know if it is a profitable exercise or not to back their own team in every game they play.
Well, those guys over at Betway have produced a fantastic video highlighting which Premier League club would have made you a profit if you would have backed them to win in every game throughout the season to a £10 stake and it makes for some very interesting viewing.
For me personally, I was most interested in the Arsenal figures and depressingly I would have made a loss of £12.90 over the season using a £10 stake backing the Gunners to win every game.
But the thing is this, why back your team blindly week in week out? It makes far more sense to be selective in both match selection and finding value.
This graphic from Betway gives a perfect illustration of how one can maximise their returns when choosing the right match.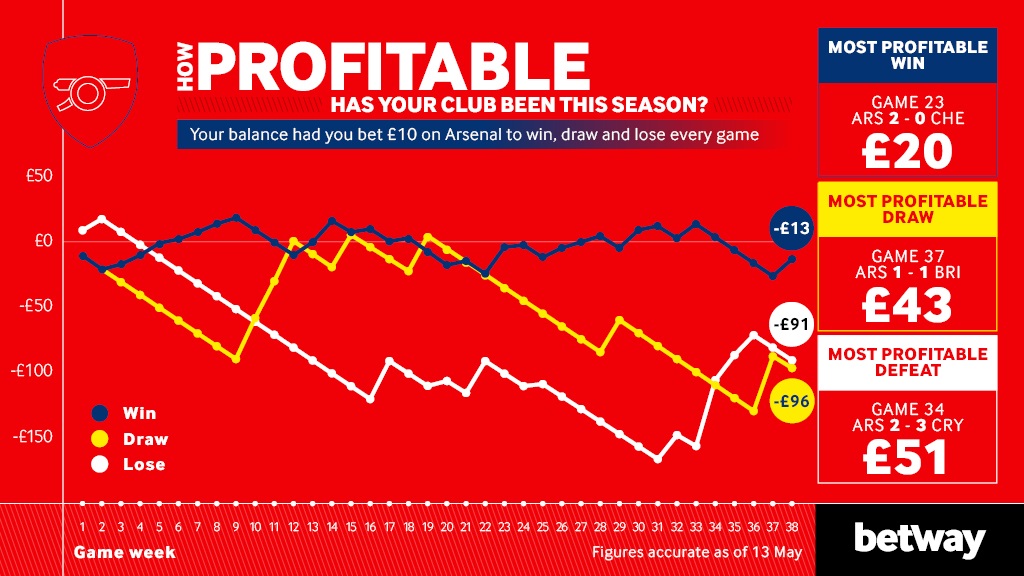 BBC Football
Once you have concluded your analysis then go to a well-respected sportsbook like Betway to identify the best odds and take the long term view with sensible staking, that is the far better option than just betting blindly week in week out. It can be profitable if you are lucky but it really is fraught with risk and not what I would recommend doing.
As an example, logic tells me that backing Arsenal away at Manchester City is probably not the wisest move and backing them at home against Chelsea surely was.
You should also consider the other type of betting options available to you outside the simple win/draw/loss markets. There are goals markets, bookings, time of goals, first goalscorer, correct score and so much more for your consideration and if you want to make your betting pay then it is the more astute thing to do to be selective in your betting.0