Thibaut Courtois vs Petr Cech by Russell
Ahead of Arsenal's trip to Stamford Bridge on Saturday, daily fantasy football game www.oulala.com have unearthed a number of key stats to reveal how current Chelsea goalkeeper, Thibaut Courtois, has measured up to the man he replaced, Petr Cech, since the Czech joined rivals Arsenal in 2015.
The former teammates come head-to-head this weekend in a clash that could have significant consequences on this season's Premier League title race, with the Blues currently leading at the top of the table by nine points.
Reducing Chelsea's lead to six points would bring Arsenal back into the fold. However, extending it to 12 points would see the Gunners more or less out of it.
Our stats team have looked all the way back to the beginning of the 2015/16 season to analyse how former Chelsea number one Petr Cech has compared to the current Blues' keeper Thibaut Courtois in the Premier League since his move to Arsenal.
As the Czech has made 11 more league appearances than the Belgian since August 2015, clocking up over 1,000 more minutes of action, our analysis has been made on a per minute, per game and per goal conceded basis.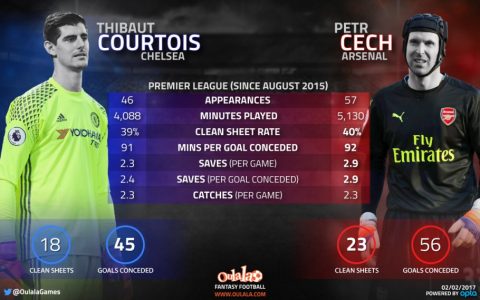 With 18 clean sheets in 46 appearances, Courtois has kept opponents at bay in 39 per cent of his matches. While in 56 appearances, Cech has kept 23 clean sheets, narrowly edging Courtois by one per cent (40%).
Although Cech has conceded more goals than Courtois since he joined Arsenal (56 to 45), the 34-year-old in fact edges the Belgian on a per minute basis, having conceded a goal every 92 minute's to Courtois' 91 minutes.
The stats go on to show that Cech has also been far more active for his new side, making more saves, on average, per game (2.9 to 2.3) and more saves per goal conceded (2.9 to 2.4). While the duo are equal when it comes to the number of successful catches made per game (2.3).
So who still believes that Chelsea sold us a dud?
Admin