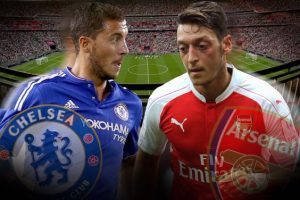 Arsenal were very impressive in last week's League win over Bournemouth with their full team back and everyone playing in their normal positions, but Sunday's away trip to face Chelsea at Stamford Bridge will be a completely different kettle of fish with the Champions now in great form since their shock opening day defeat.
Chelsea started their Champions League campaign on Tuesday with a 6-0 drubbing of Qarabag and will have ample time to recover for Sunday, and ominously that game saw the return of both captain Gary Cahill and a run out for Eden Hazard. Their new hitman Alvaro Morata was given a rest, but his replacement Batshuayi scored, plus new signings Bakayoko and Zappacosta opened their accounts.
They are looking back to their very best and their keeper Thibault Courtois thinks they are in the perfect mood to take on Arsenal this weekend. 'It is good to face Arsenal now,' he said.
'Everybody is healthy and things are going well. We won at Leicester, won comfortably (on Tuesday night) and will go into the Arsenal game with a good feeling.
'We are doing well. After the bad first half against Burnley, I think all our performances have been good. We have shown good spirit, good football and good wins most importantly of all.'
'Do we feel like we are in a good place? Yes,' Courtois continued.
'Sometimes it is good to face a big team early. Last year it didn't work out against Liverpool and Arsenal, but this season we have already won at Tottenham.
'Arsenal had a few bad matches, but won comfortably (against Bournemouth) last weekend.
'For us and for them it's a big game because we are third in the table.
'Obviously we want to close the gap (to Manchester United and Manchester City) and take points off Arsenal as well.'
Gary Cahill, who has just returned from a 3-match ban, echoed Courtois' confidence when he said: 'It's about building the momentum. Last season we were successful because we had that momentum going.
'Winning games is the best feeling ever. We've managed to do that the last four games and now we're heading into a big game. Everyone's ready to go.'
So we cannot expect an easy game at all at the Bridge, but we also know that Arsenal can surprise us all on occasions and everything clicks at the same time. Chelsea may be in form, but we looked back to our best last week and really need to start moving back up towards the Top Four again. Let's shoot down the Champions and prove we mean business this season…
Onwards and Upwards!
Admin