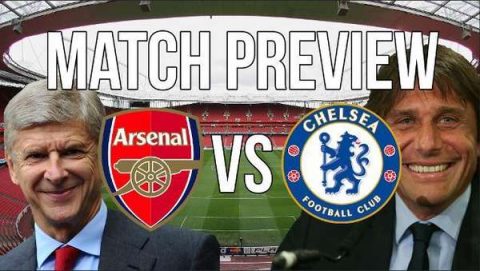 Arsenal make the daunting trip across London to face Chelsea at Stamford Bridge today, in a match that could all but end our title aspirations.
The Blues currently hold a nine-point lead at the top of the table, with both us and our noisy neighbours sat closest to catching them. We both failed to take advantage of them dropping points away to Liverpool in midweek, and this will surely kill our chances should we lose today.
Our rivals have not suffered a home defeat since Liverpool beat them there back in September, but more importantly, have been in spectacular fashion since we gave them a 3-0 beating at the Emirates Stadium, which led manager Antonio Conte to change his system.
We must now bring our side to take on this impressive 3-4-1-2 formation which proved unstoppable for a period, and they can also boast a fully fit squad with no absences.
Our options are not so perfect however, with our central midfield options having dwindled down horrifically. Granit Xhaka is currently suspended for his stupid and unnecessary foul against Burnley, while Santi Cazorla, Aaron Ramsey and Mohamed Elneny are all out with injury. This leaves Alex Oxlade-Chamberlain likely to be forced to fill in alongside Francis Coquelin, with Ainsley Maitland-Niles the only other serious option for the role.
Beyond our central midfield issues we have no other absences from the squad (which makes a change), and while we may struggle to battle Chelsea in midfield, our attack will have to work doubly hard during the match.
Predicted XI (What I want to see)
Cech
Bellerin  Koscielny  Mustafi  Monreal
Coquelin  Ox
Walcott         Ozil         Sanchez (Lucas)
Giroud (Sanchez)
I think Olivier's form will mean that Arsene Wenger will fail to consider leaving him out of the side this week, but I cant help but feel that Chelsea will be too comfortable defending against his style of play, while Alexis has proven to be able to pressure centre-backs like no other. Lucas Perez has also been thoroughly impressive for us when he gets the opportunity, and I cant help but feel he would be the perfect compliment on the opposite side to Walcott for the Chilean.
The team I expect Wenger to pick I simply cant see winning unfortunately, while a team with Alexis or even Welbeck on the other hand I think would pose a serious threat. We simply cannot afford to play out a draw and have to go after the win here, but hopefully things will go in our favour, and we can come away with a 2-1 win. If this XI starts however, I think we will end up losing narrowly.
Does anyone have higher expectations then me? Can we win with Giroud spear-heading our attack?
Pat J