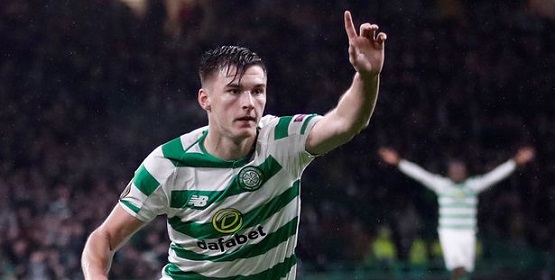 Arsenal are not very far away from landing one their primary targets, in fact, according to a Sky Sports reporter they need to find just £2 Million more.
That is all they need to complete the signing of Celtic defender Kieran Tierney, according to Sky Sport's Dharmesh Sheth.
How credible that is I do not know but if Sheth is right then Arsenal needs to pull their fingers out and get this deal done.
It is as clear as daylight that the defence is in need of major surgery, there are no problems upfront, especially once the Nicolas Pepe deal is confirmed, probably later today. The midfield has been strengthened with Dani Ceballos arriving on loan and the emergence of Joe Willock but not the defence.
Tierney is a classy individual and is very much needed, he is just 22-years-old, has extensive experience having already played over 170 games for Celtic including 21 Champions League appearances.
Speaking on the Sky Sport's Transfer Talk podcast, Sheth said
"I've been told that Arsenal are cautiously optimistic a deal can still happen for Celtic's Kieran Tierney,"
"Let's go back to what's happened with this deal. Their first bid of £15m flat rejected by Celtic.
"They went back in with £25m. Now that figure is something Celtic are willing to deal at, but it was with £18m upfront and the rest dependent on appearances and Champions League qualification for Arsenal.
"But Celtic weren't happy with that either.
"It seems like it's boiling down to £2m upfront. I think if Arsenal can put £2m more upfront, they could be in business with Kieran Tierney.
"Significantly, last week Celtic boss Neil Lennon said when the second bid was rejected 'look, as far as I'm concerned that's the end of the matter' and he's happy that Kieran Tierney is staying because he needs to get his mind right.
"Since then, he's admitted that Celtic are looking at contingency plans should Tierney leave.
"A subtle change in what's being said by Celtic, which would imply that perhaps this deal is well and truly on still."
I do not know too much about Dharmesh Sheth or how credible he is but I am inclined to believe that he is probably not too far off here and with just eight days to go in the transfer window Arsenal really do need to either get this one over the line or move on to other defensive targets.
What they surely cannot do is leave the defence as it is, not if they want to break into the top-four and put silverware into the cabinet.