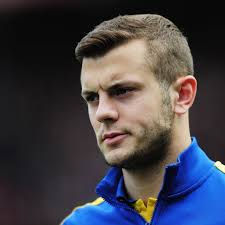 Poor Jack Wilshere was cast as a superstar of the future when he broke into Arsenal's first team at the tender age of 16, and finally became a first-team regular at 18 years of age and made a massive 49 appearances on the 2010/11 season. Then he got his first injury, a stress fracture in his ankle, which with various setbacks put him out of the game for the next year and a half.
He was still impressive on hisreturn, but the yearly Wilshere injury became a bit of a cliche and he was finally given a year away at Bournemouth where he very nearly survived the whole season before he was crocked again in April and returned to Arsenal for treatment. The now 25 year-old is one of the many players at Arsenal that are entering the last year of his contract this summer and it is now decision time on his future.
There have been no comments regarding a new contract for Jack (or many other players either!) and the day after his wedding to Andriani Michael it has been revealed by the Huddersfield Examiner that a glut of money has been placed on Wilshere joining Huddersfield Town next season and they are now 3/1 joint favourites with West Ham.
With the plethora of talented midfelders at Arsenal Jack would still find it very hard to get playing time under Wenger and it may be time for Jack and the Gunners to part ways. Wilshere said last summer that the important thing for him is to be playing games, and he would surely be guaranteed gametime with the newly-promoted side. I surmise their could be a possibility of Jack signing an extension with Arsenal and then going to the Town on loan for next year? But can anyone really see this happening?
Admin