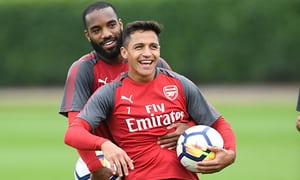 Arsenal fans have been clamouring for Arsene Wenger to buy a top top striker for many years after despairing of Olivier Giroud's chances of firing the Gunners to the League title Perhaps this summers acquisition of Alexandre Lacazette could be the missing link that cheers up Arsenal fans, and could this also give Alexis Sanchez the belief that he could still win a top trophy with the Gunners.
Despite the fact that Alexis has only actually been partnered with the Frenchman a few times, he seems to be very keen on playing with him. Alexis said on Arsenal.com: "When he has a goalscoring chance, he is a good finisher. He's a classic striker. He was a successful player in France, and the two of us work well together. He's an excellent player.
"I believe we have [a good understanding]. We haven't played that many games together but when we have, I like how he plays. He finds space and understands the game well. He is very talented."
In the three games they have actually played together Lacazette has got three goals and the Chilean superstar has got one himself plus two assists. If they can carry on like that and fire the Gunners up the table, perhaps Alexis may start to believe that staying at the Emirates may not be such a bad idea after all…..
Admin