Roll up roll up Arsenal fans, because here at JustArsenal we are ready to give one lucky Gooner out there a proper Crimbo. We have teamed up with Huawei, the official smartphone partner for Arsenal, to give away an exclusive Huawei Ascend P7 Arsenal Edition device. It is a fantastic prize to give away and not only is it a brilliant example of the latest in technology, it is going to come to you all Arsenal themed and and Gunnered up to the max. The P7 comes with some of the world's best football apps preloaded such as match highlights on the BBC iPlayer (UK only) and games like FIFA 14 (mobile) — and with a 5-inch full HD screen, it's perfect for enjoying match highlights at home or on the go! 
To keep fans up to date, Huawei have partnered with the BBC to offer BBC News, BBC Sport and BBC iPlayer Radio (UK Only) as well as the brilliant new Yakatak app for updates on games as they happen and a unique direct link to your social networking friends to chat about Arsenal and clubs from 400 leagues.
The 13 megapixel main camera will let fans capture incredible videos of their heroes at Emirates Stadium and personalise every picture and video with added watermarking and audio functions.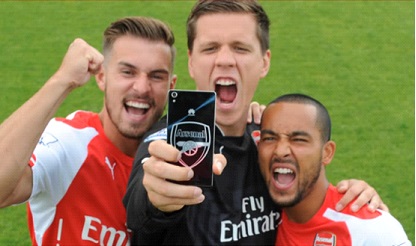 I know, we are too good to you guys but I reckon we have all suffered enough in recent years that at least one of us deserves a nice Christmas treat and this is definitely the best prize we have EVER given away on JustArsenal!
So all you need to do to have a chance of winning this superb stocking filler is to predict the correct score of the game against QPR on Boxing day, the time of the first goal by any player from either side and the first player to score a goal for the Gunners.
So if you reckon that the Arsenal defence are going to have a bit of a calamity and Per Mertesacker is going to have blond moment and put the ball into his own net, say in the first minute, before we storm back with a Flamini hat-trick to win the game 3-1, your entry would be as follows:
A. 3-1 to Arsenal
B. 1st minute
C. Flamini
If nobody gets it right we will do the same for the next game until someone does win. Good luck Gooners and season's greetings to you all.