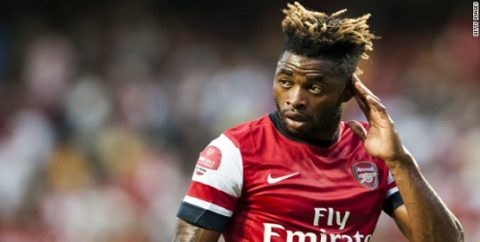 Other Players Arsenal have Loaned by Dan Smith
So, have Arsenal signed Dani Ceballos because they genuinely identified him as a replacement for Ramsey, or was he simply the cheapest option, a way to fill a hole in the squad without paying a fee? So how often in the Premiership have we loaned in players and how often has it worked?
Fabian Caballero (1998-1999)
He came on loan for the season with an option to buy. Scored 8 in 16 reserve games but wasn't needed with the strike force we had, so was sent back to South America after only one Prem appearance off the bench. Did enjoy one spell in Europe, calling his time in Dundee as the happiest time of his life
Michal Papadopulos (2003-2004)
Only played for 7 minutes during his senior career, his reward for impressing with the reserves, the same game where a certain Cesc Fabregas became our youngest scorer in our history. At a time when Arsene Wenger was putting his faith in youth he would have signed him permanently if there was talent there.
Alex Song (2005 -2006)
A trial turned into a loan. Despite not starting in the League during that time, he convinced the Gunners to give Bastia 1 million for him. Most of his appearances in cup ties were at centre back, the few times he did play in midfield he was so poor some of his own fans turned against him. His big turning point was a loan to Charlton. Upon his return became the closest replacement midfielder we have had since Gilberto Silva. Admitted he regretted leaving for Barcelona and we should have re-signed him like we did Flamani.
Julio Baptista (2006-2007)
Was part of a swap deal which saw Reyes loaned the other way. Unlike the Spaniard however the Brazilian was always adamant that he wanted the switch only to be temporary. By the end of the spell Arsene Wenger no longer had long term interest in the striker. He scored 3 in 24 prem games but did get a hat trick at Anfield and a brace at the Lane, on route to the League Cup Final.
Yossi Benayoun (2011-2012)
It took an 8-2 humiliation at Old Trafford to force our owners to even think about spending the Fabregas/ Nasri money. While no one would claim the Israeli was the same quality, he gave our young squad much needed experience on and off the pitch at a troubling time. Should have made this type of signing years earlier.
Thierry Henry (2012)
Our legend had been training with us during the MLS off season. A short-term spell was seen as nothing more than a bid to sell a few shirts with the striker not even expected to play. When he returned to America our greatest ever scorer had added two more goals to his tally. I was at the Leeds tie for the Frenchmen's return, it remains the most emotional the Emirates has ever been for me.
Kim Kallstrom 2013-2014
Legend has it that Arsene Wenger confirmed the signing even though he knew the Swede had a dodgy back. Top of the League that January, this was our sole purchase that window (sound familiar). The midfielder did contribute to our history though, converting our second penalty in the semi-final at Wembley.
Emiliano Viviano 2013-2014
Having been an established first choice keeper his whole career, was shocked to find himself third choice. Clearly there was a lack of communication of why the Italian was loaned to Emirates. Playing regularly in Serie A before and since, playing 0 minutes has left him describing the experience as the worst of his life
Denis Suarez (2019)
Unai Emery pushed for the signing of Suarez having worked together in Spain. We were critical in January of the club nearly missing out on the move due to not wanting an obligation to buy. In hindsight it would have been a disaster if we were now forced to spend 25 million on a player who managed just 4 games. The player has since admitted to not being 100 per cent fit from his second week onwards. There is a suggestion though that Arsenal were aware of his injury problems and signed him regardless.
In conclusion, we've had only one loan signing that we turned permanent, making Ceballos a possible exception to the rule. It's rare for us to use the loan market as a source to make a major signing, and even rarer that we borrow someone with a long-term plan mind.
Dan Smith