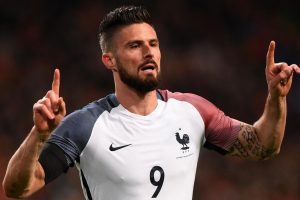 Poor old Ronald Koeman took Everton into the Europa League positions last season, but after a summer when he had to sell his prolific striker Romelu Lukaku he failed to bring in a suitable replacement and the Dutchman was sacked after dropping into the relegation zone after being destroyed by Arsenal last weekend.
There were many rumours in the summer that Koeman was trying to buy Danny Welbeck and Olivier Giroud after selling Lukaku, and he has now admitted that missing out on Giroud was his biggest disappointment of the window after managing to get the Frenchman up to Goodison Park for talks. "I had Olivier Giroud in the building," Koeman lamented. "He would have fitted perfectly but, at the very last moment, he decided that he'd rather live in London, and stay at Arsenal.
"That was really hard to swallow. You tell me, where you can get a better striker?
"Lukaku was so important for us, not just because of his goals. If things were not going well in a game, if we could not play the way we were used to, there was always the option to use the long ball towards him.
"All of a sudden, we were missing such a player. With Nikola Vlasic and Wayne Rooney, we had attackers who want the ball at their feet."
"I was on holiday when I received the Premier League fixture list by e-mail,"
"I looked at it and saw that five of our first nine games would be against clubs from last season's top six: Chelsea, Tottenham, Man City, Man United and Arsenal.
"I looked at it again and I said to myself, 'Phew! That is not going to be an easy run, in particular with a Europa League run at the same time'. And, most of all, because I had lost my striker Lukaku."
So is losing out on Giroud the reason that Everton could not compete this season? Would he have made such a big difference to their League position with that fixture list and saved Koeman's job?
Darren N