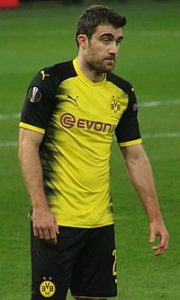 If there was one Arsenal player that came in for a lot of criticism after our 8-0 destruction of Boreham Wood, it was our new signing Sokratis. The big Greek looked bumbling and unfit and was compared to Per Mertesacker at his slowest.
But it is our first game and he will certainly improve and get fitter as the new season approaches and we shouldn't worry too much just yet. One thing caught my eye from the Bundesliga specialist Max Bielefeld, who watched the 30 year-old many times at Dortmund. He isn't sure that Sokratis will fit into Arsenal's free flowing style of attacking from the back. The Sky Germany reporter said: "Sokratis Papadopoulos is a defender I imagine performing pretty well in the Premier League.
"He's good in the one-on-one situations, he's a good header of the ball, he's really aggressive kind of defender.
"But he always has had his limits when it comes to playing the ball out the back, producing some play. You can't compare him to Jerome Boateng who really likes to play the vertical passes from defence.
"He has some problems with the ball. Without the ball he is a really heavy defender."
I, for one, am not worried about that. We have been crying out for a solid presence at the back whose sole job is to stop our opponents. Last season we had too many defenders bursting forward to try and get amongst the goals instead of concentrating on their main job, and if Sokratis is that man that will defend to the death then I am very happy. Don't worry about his fitness, that will come….
Admin