Liverpool, Manchester City and Arsenal head into the final weekend of the Premier League with just three points separating them. At Oulala.com, we've analysed how the three clubs have compared in 10 key areas this season to reveal which two are the most deserving of a top four spot, statistically speaking.
Manchester City go to Watford on Sunday, safe in the knowledge that just a point will cement a top four finish, while a win will confirm third place.
Of the 10 areas analysed, Pep Guardiola's side lead Liverpool and Arsenal in six.
City have recorded the highest possession (61%) and passing accuracy (85%), as well as the most successful passes (18,869), successful dribbles (485) and shots (618). City have conceded fewer goals (39) than either Liverpool or Arsenal, while scoring more than the Gunners and as many as the Reds (75).
Liverpool host Middlesbrough in their final game, with a win enough to guarantee a top four finish.
The Reds lead City and Arsenal in two key areas. Liverpool have been the best in the air , winning a total of 647 aerial duels, while they've also won more tackles (703).
Jurgen Klopp's side sit second in four areas; possession (58%), successful passes (17,698), shots (615) and goals conceded (42).
Arsenal welcome Everton to the Emirates on Sunday and will be relying on other results going their way for any hope of a top four finish.
The Gunners top Man City and Liverpool in just one key area, interceptions (530).
Arsene Wenger's men rank second in four areas; pass completion (84%), successful dribbles (451), aerial duels won (624) and tackles won (655).
Overall, Manchester City are the most deserving of a top four finish based on statistics.The numbers go on to suggest Liverpool merit fourth spot ahead of Arsenal, having topped the Gunners in seven key areas.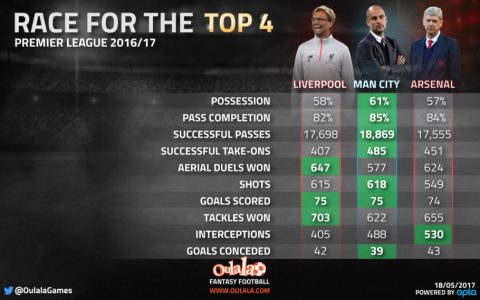 Russell Cane