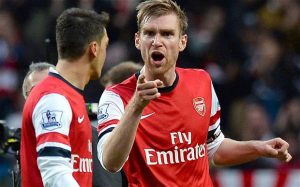 There have been many comments over the last few years that Arsenal simply don't have any leaders on the pitch, someone who can take the game by the scruff of the neck and cajole the players into fighting for every ball when we go a goal down, a Tony Adams for example…
We seemed to have the same problem against Stoke last week, and Wenger was directly asked if his team lacked any leadership like that and he replied: "We have many leaders,"
"The modern life has created maybe a bit less natural leadership because more players are better informed and have a bigger knowledge of the game so everybody contributes.
"It is less centralised on one or two persons. But of course at the moment, I would say Per Mertesacker and Laurent Koscielny are the captains with Petr Cech so the natural responsibility goes to them."
They may be the oldest three players in the squad, but we can hardly call our so-called captain Per Mertesacker a leader on the pitch as he hardly ever plays. Laurent Koscielny has said in the past that he prefers to lead by example rather than shout at his team-mates, and our revered goalkeeper can hardly lead a comeback from between the sticks.
So do Arsenal still need that fiery personality to take control of the players during games? Maybe Jack?
Admin