There was much made of the photos of Granit Xhaka being "leaked" just after he confirmed his contract with Arsenal, but now all the hullabaloo has died down surrounding our new arrival, perhaps it's time that we discussed what we think of the new Puma Home Kit.
First of all here is the official description from Puma. "The new Arsenal Home kit for the 2016/17 season was revealed today with a striking new look. Drawing inspiration from the managers, players and moments that defined The Gunners throughout the 90's, this modern interpretation of a classic merges innovative technology with design features that give a nod to Arsenal's past.
Designed in the classic Arsenal home red, PUMA has created the new 2016/17 Home shirt based on the traditional and iconic home shirt treasured by fans. PUMA's iconic T7 Form Stripe runs along each sleeve and a dropped tail and longer sleeves with cuffs give this shirt a refined look. Rounding off the design, the printed front graphic provides a modern approach and the heat transfer gothic "A", inspired by the gothic font that featured on the club's crest in the past, is the official signoff on the back neck area."
Okay so lets start with a pic of Olivier Giroud wearing it……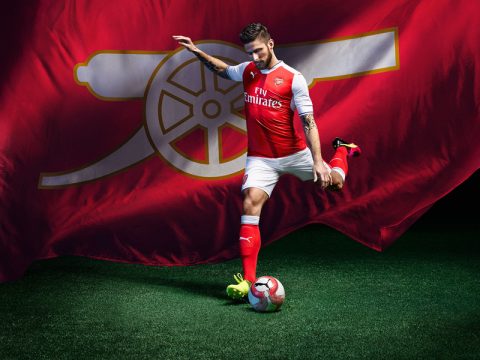 And here is what our "star striker" had to say about it: "PUMA has done a great job with the new home kit. They have designed a shirt that is influenced by our classic home kit and added modern features, which will ensure we stand out and look good on pitch. Our traditions and the iconic home shirt are very important and I know our fans are going to be very happy with it. It's a very nice looking shirt and I'm looking forward to wearing it next season."
Well he has to say that as Puma are one of his sponsors, but honestly I think it looks pretty cool. I'm not too sure about that black line down the front though.
But whatever you think of the kit, you have to admit that this publicity pic is a touch of class, so perhaps this may be a good partnership to help us win the title next season. At least the money received from Puma this year will pay for the whole of Xhaka's transfer….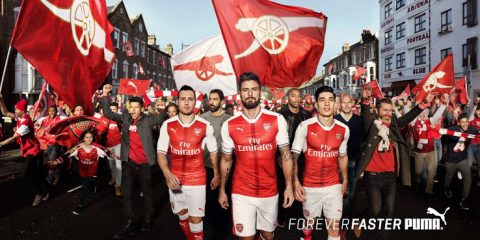 So what do you think of the new threads?
Admin