As we all know, there is not too much loyalty left in top flight football these days, but Arsenal may be able to benefit from a little bit that is left. If this picture below is anything to go by that is.
The Gunners have long been linked with the possible transfer of the Borussia Dortmund and Germany international star Marco Reus, but recent transfer rumours have suggested that the 25-year old is more likely to be joining his former club team mates Mario Gotze and Robert Lewandowski at Dortmund's great rivals and the German Bundesliga champions Bayern Munich.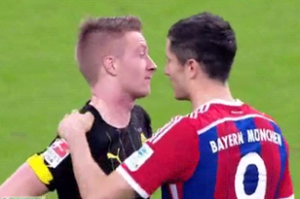 But the way Reus reacted to the Polish striker's attempt to give him a hug after Bayern beat Dortmund 2-1 at the weekend suggest otherwise. Maybe the fact that Reus is actually from Dortmund means that he is not so keen to play for their main rivals and the fact that the £19.5 million release clause in his contract, which kicks in next summer according to a Daily Mail report, is well within Arsenal's reach could see Reus heading to the Premier League.
There would still be plenty of competition for his signature, with Man City and Liverpool linked as well, but if Reus really is reluctant to join Bayern Munich, that would be one major obstacle out of the way for Arsene Wenger to add the stunning forward to Arsenal's ever growing list of German players. What do you think Gooners?