Forget all the media talk, Arsenal fans, that wants to suggest that the reason the Gunners beat Aston Villa yesterday was some mystery virus. Apparently that meant Paul Lambert had to without six of his Villa players. Boo hoo and all that, but Arsene Wenger had no less than seven of the Arsenal squad unavailable due to injury.
So please, pundits, give the Gunners some credit for once, as much as it hurts you. The suggestion is that this virus also affected the Villa players on the pitch, leading to them becoming tired and without enough energy to mount a proper charge in the second half. Yeah, yeah.
But the game was actually over by halftime, as Arsenal blew them away with three goals in less than four minutes. We were not going to let them come back from that. In fact, the platform for the victory was laid in the first 15 minutes, as the Arsenal players showed the fight and grit that was missing in Dortmund, to hold off a fast and furious start by the home team, and I think I may have discovered where that came from.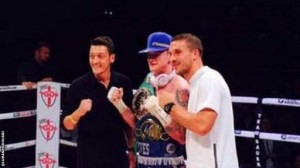 Imagine my surprise when I was watching the George Groves fight and saw Mesut Ozil enjoying himself in the crowd. It turns out that Lukas Podolski was there as well, as this pic taken at the end shows. But with his languid and laid back personality and style of play, it was Ozil's presence that surprised me. I wonder if Arsene Wenger has been trying to toughen the German star up and perhaps put him in touch with the London boxer. He certainly seemed to be more up for the fight yesterday.
Maybe the boss could arrange to hook him up with Mike Tyson before we face the spuds next weekend….