I know some of you Arsenal fans have been getting worried about missing out on this season's St Totteringham's Day festivities, but I can guarantee you that celebrations will be in full swing.
Our neighbours are enjoying their best Premier League title challenge since the competitions creation in 2013, but the international break broke up their momentum, and I firmly expect us to return to our rightful place above them in two weeks.
Tottenham will have to try and pick themselves up against Manchester United next weekend, and despite the Red Devils inconsistencies this term, they have been lethal against the bigger sides.
I can assure you that United will come away from this game with at least a point, and when we beat West Ham next weekend, we will have closed the gap to only one or two points. The following Sunday we will have the easy the task of beating Palace (who haven't won a game since December), which will put us above our rivals, having played the same amount of matches.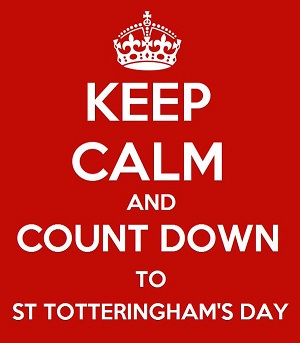 I'm then predicting Tottenham to struggle away at Stoke City, before failing to beat Chelsea on May 2 which will seal their place in our shadows.
This may sound rather optimistic to some of you, but our team is brimming with confidence, and I have caught the bug. Sue me!
I'm not going to go all out and say that Leicester are also going to start slipping up in the coming weeks, but I would not be surprised to see them drop points against Southampton tomorrow, who are known to bring some of the toughest games to even the strongest opponents.
When the Foxes start to lose their grip on the Premier League, you may see a similar post from me, but I don't actually believe they are going to fold like a cheap tent, unlike our North-London rivals.
Surely I'm not the only Gunner left with confidence in a strong finish? And can we all pencil in May 2 for the St Totteringham's Day banter parade please!
St Totteringham's Day is the day when Arsenal fans celebrate the fact that Tottenham can no longer catch Arsenal in the League. It is a movable feast, but usually falls in March, April or May. It is the day to collect on bets made by over-optimistic Spurs fans in the close season who think that "this is the year".

Follow the in-depth progress of St. Totteringhams Day at this excellent blog from Mike Pitt