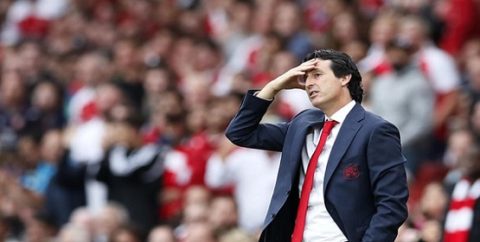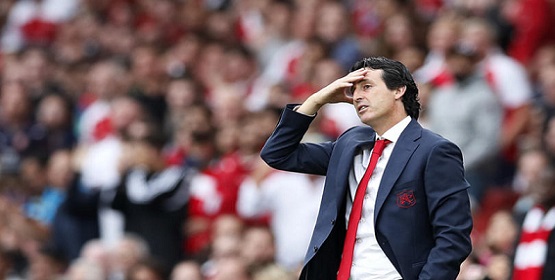 Hello Gunners.
That was it, the game we all dreaded, but at the same time we felt a bit confident about. The spirit was high among the fans I know. To be honest, I read and spoke with lots of people who believed we would get something out of the game, I had even some of my Chelsea supporters telling me we could go toe to toe with Liverpool, because we're the only ones behind Liverpool and City in terms of quality and squad depth now.
To be honest, before I go any further, I didn't see the game. I had a really really busy and tight week, I thought I could make it in time to see the game, but I couldn't. I had to watch the full game this morning. I read every article and visited some blogs, and what I saw is this; Over half of the fans and blogs I know all blamed Emery for the loss. Do I have another view? No, I agree with them all. This isn't an article to lay blame games anymore.
Emery got his tactics wrong, selection wrong. I know folks would say I'm not a coach, I have no coaching badge so how I can know better than a professional coach, but first he's human before being a coach. Humans are prone to mistakes and errors, as fans there are lots of stuff we see and notice that coaches don't sometimes, and sometimes there are stuff the coaches see that us fans don't. This is one of those important games Emery saw the wrong stuff and made the wrong moves, like it or not. I'm not disrespecting the man, but everyone knows it's the truth.
After the game, this is what Alexander Trent-Arnold had to say: "We prepared for them to go with another system,"
"They were really narrow, and it allowed me and Robbo a lot of space and freedom, and [we] were allowed to cross the ball as much as possible." He went on to reveal how they all trained playing against our formation and team, only for us to put something else totally (Which failed badly).
"We worked all week in breaking that midfield line, and we thought we'd have to really stretch the pitch out, it was a case of them tucking really narrow and us two getting the ball and trying to find people in the box. It was tough because the two centre-halves were really in the middle."
Imagine how tougher it would've been to play us with our proper squad and tactics? How tougher it would've been if we had wingers defending with the team and give those players little chances?
Now here's my question, how do you cry for a winger, the club gets you one for a massive record signing, and in his first full debut you play him up front away from his natural position? Where's the sense in that?
How do you prepare your team against one of the best team in the league and currently the best team in Europe after winning the UCL with such tactics? How do you prepare yourself and team to go play and give their defenders and wingers space to do their thing? Not just any defenders, both are fullbacks considered as the best last season, had more assists than some well-known attackers. The whole planet knows Liverpool's game is played to the strength of their wingers and fullbacks. Yet we decided to go to their backyard, and give them the space to do whatever they want, believing we'll get them to switch their play to suit us? Believing they would drift into the centre trying to close us down? In their own backyard? Come on!!
Let's say we all accept the formation seems smart on paper, how about the selections? How do you plan to draw their players to the centre of the park by playing Xhaka-Guendouzi in the middle? Ceballos who's great at retaining the ball at his feet on the sides, and Willock who can shield the ball better than Guendouzi on the sides?
How do you decide that? While leaving out players who could've retained the ball in the middle, protected it, and execute your plan. Lacazette, Torreria, and Mhki would've been the proper players for such formation. Don't come up with the 'Torreria had no match fitness' crap, Sadio Mane and Riyadh Mahrez both played in the Afcon finals, yet they both started the season alongside their teammates. If we had players who could retain the ball in the middle, Liverpool would then be forced to try to come get it in the middle, they would try to protect the middle, even at that it's still a massive gamble because the wings would still be left unguarded. How can you have quality players on your bench in such a game, pull such a gamble?
My verdict and view on Emery still remains the same as it was last season. I don't believe Emery is the man to lead us back to the EPL title. Yes, he seems the perfect strict man to weed out the average players we've had in the team, but I don't think he's better than that. Last season while on our unbeaten run I stood vocal and laid out my worries about how we were playing, with no game style and getting lucky in those games. Kev was also very vocal on that point, how we were playing poorly yet getting lucky wins. I was told he should be given two to three years, and so many other stuff. Fair enough, he had my support for the rest of the season, but then you'd have expected improvements from him and his team. Almost two years, and the man still doesn't have a first XI, the man is obsessed with Xhaka, and even plans to put him on his captain list.
Almost two years later, we still can't play from the back properly and calm. Almost two years later we still don't know if we're an attacking team or a defensive team. All because WE STILL DON'T KNOW THE STYLE OF FOOTBALL WE ARE PLAYING!!
We can all kiss goodbye to trying to get Xhaka out of the team, the bloke is here to stay, he's not going nowhere and Emery rates him too much to bench him. We just have to hope the game against Spurs shows us what we can do as a team.
We can only Hope!!
Eddie Hoyte