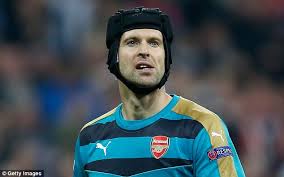 This is Petr.
Petr has won the Premier League four times since Arsenal last did.
Petr knows that the race for the title is a marathon not a sprint.
Petr keeps calm and focused and always performs under pressure.
Petr is smart.
Be Like Petr.
This is the message that Arsene Wenger should be doing everything in his power to instill in every member of the Arsenal squad, because I do not think it is the talent available to the Frenchman that has been the cause of the club's struggles over the last month or so.
I do believe that the current crop of Gunners are better able to cope with the pressure and expectation from the Arsenal fans, but until we do finally get our hands on the Premier League trophy again then there is going to be an issue in the minds of the players.
As well as keeping our opponents from putting the ball in the back of our net, Petr Cech has the job of keeping his team mates focused and properly prepared to handle the challenges facing them over the next few weeks and months. The veteran keeper has already steadied the ship and helped us with his experience and attitude and again this week was quoted in the Evening Standard rallying his disappointed team mates and reminding them that there is a long way to go.
Cech said, "There is a long way to go and there is always a twist in the tail so you keep working hard every day and try to keep getting results. If we believe then I think we can still do it – there are more than enough games to put ourselves back at the top of the league so we will work for that."
If the rest of the Arsenal team can be like Petr, will Arsenal be crowned EPL champions in May?