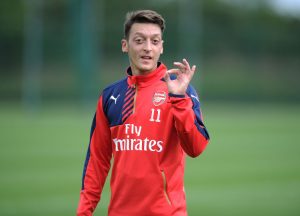 The contract sagas of Alexis Sanchez and Mesut Ozil have been going on for over a year now, but for some reason there are still reports in the Arsenal media that the German could still backtrack and sign a new contract. The latest "news" is that he will only sign if he is given Jack Wilshere's Number 10 shirt. As far as I can see this EXCLUSIVE was first aired on Wednesday, but it sounds like it was written by 'Phil Space' to me, especially as Ozil is off with the German national team at the moment and would hardly speak to that rag anyway.
There is nothing to see here I assure you. Nothing has changed. Ozil will not be signing a new contract. Arsenal will NOT be offering 300,000 a week to either Sanchez or Ozil, and they will both be looking for massive signing on fees at their new clubs next season.
Jack Wilshere, if he decides to stay (at least there is a real chance of that one happening) will continue to wear the Number 10 shirt, and the media will continue to make up rubbish stories to entertain the masses who have already got it in for Ozil.
Okay is that clear?
Darren N