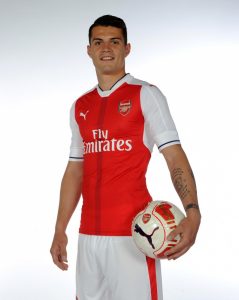 To be fair I am not one of the Arsenal fans that have been left fuming and frustrated by the slow start Granit Xhaka has made to life as a Gunner, or for that matter by the caution with which Arsene Wenger has introduced the Swiss international to his new club.
Of course it would have been great if Xhaka had come to north London and hit the ground running and was winning Man of the Match awards every week and taking every game by the scruff of the neck like our old captain Patrick Vieira used to do, but realistically it was unlikely to happen.
We hear all the time that the English Premier League is very different to any other in Europe and the central midfield area is one in which the pace and competitive nature of the game is most obvious. It is also a key part of the side and if you get it wrong it can mess up the whole match, so I think it is right for the boss to break him in gently and Xhaka seems to understand that judging by his comments this week reported by The Mirror.
He said, "Well, actually, it's normal when you come to a new club and country.
"You need to get used to the language, the philosophy of the team, the squad, the coach.
"But I do feel very happy and comfortable here, and I know the potential I have. In football you just have to develop yourself."
That is the right attitude for a new signing in my opinion and I don't think Xhaka has anything to worry about. We are already seeing him grow into the role and the more he plays the more his experience and confidence will help. Apparently he is going to start the Champions League game tonight against one of his former clubs Basel and that familiarity should help him to relax and play his natural game.
I expect to see Xhaka shine tonight and will this trip to a former club help him to start shining more for Arsenal?
Sam P.