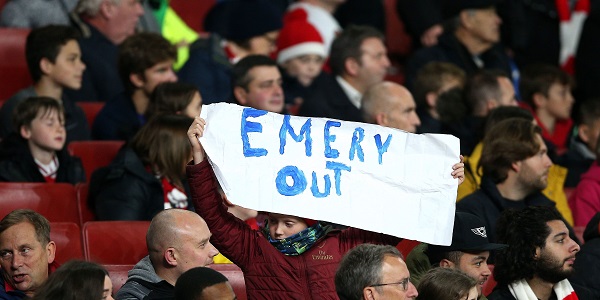 When? Today, tomorrow, Sunday? by Konstantin Mitov
Well lovely Arsenal people, what can I say other than I expected this defeat last night. I am not angry over results anymore as I just know we'll lose before the game starts. There's no point even driving the team bus to Norwich if we're planning to have Unai Emery on the bench. There's only one question and that is "when"?
When is this nightmare about to end? I am 27 and after yesterday, it's officially the worst run of games we've had in my entire lifetime. But the banners should no longer point at Emery, they should point at the board. Because a normal board would've sacked Emery last year after he failed us in a situation where we were primed for the top 4 and the EL.
The man is clueless. We're losing 2:1 and you take off Martinelli and bring in Torreira? I mean, I am discussing tactics about a man, who lost a 4:0 lead in the champions league, took a whole season without an away win, managed to not win the French league with PSG, and somehow he's landed the Arsenal job and he's running us like we're a relegation team.
The board should be sacked with him, because they allow this. They backed him in the summer and our 70 million pound signing can't get a Europa League game after not being played in the league. The players are killing their manager. They do not want him and it's plain obvious with the lack of desire.
Why are we so attached to managers? What has Unai Emery done to deserve this support? Did you see the attendance last night? At least half of the seats were empty! People voted with their feet and the rest had banners in their hands. Foxsports suggest senior figures are meeting today, to discuss Emery's future, but the discussion could well end in 2 minutes, because we all know that if that man remains, we're just throwing away games for nothing.
Here's my bigger concern though. Emery is dead for sure, but who comes next? We can't afford to hire another buddy of someone, or give the job to an average person. Nuno is a terrible choice in my opinion. If we appoint him, that's accepting mediocrity, although mediocrity has been the standard here for years!
For me, there are only 2 real candidates, who I'd appoint at the current state of things – Rafa Benitez and Max Allegri. Rafa has won the champions league, did miracles at Newcastle and is one of the most suited people for our current situation. Whether he'll take us back to the top I do not think so, but at least he has a Champions League and Europa League trophy behind his back and an FA cup too I think.
Max Allegri is the best candidate in my view, because he has pedigree. He has a solid reputation for what he did with Juventus. Sure he failed to win the champions league, but he managed 2 finals and numerous league titles, before Juve signed the likes of Ronaldo. He'll come with respect, and the players we have need a very special treatment.
Some of those players have for years gone dry out of the water, because the manager ate all the blame and the new guy faces massive problems. You have a 350k midfielder, who doesn't bother off the ball. You have a defence that leaks more than the roof of an abandoned barn. You find a squad lacking a true captain and a spine.
On top of that, this team doesn't know what formation to play, because it changes every week and is incredibly unbalanced. You have one winger in Pepe who's low on confidence. You have 2 good strikers, which two managers failed to pair successfully. You lack a good DM as one is not good enough and wants to leave (Torreira) and another one who told the fans where to go, who is equally as incapable, but is still the best DM in the squad.
But going to the defence is where the true rock bottom lies. You have Mustafi, who was blamed for all the defensive problems, got frozen out and then it turned out it's not just him. I honestly feel sorry for Shkodran because I also jumped on the bandwagon against him as I feel he's not good enough, but he got way more stick than the others, when they are just as bad as him.
Then it's Luiz and Sokratis who I'm not sure what is their quality in the side, but for David, I'm willing to give him another chance, as he is playing for Unai Emery, not a real manager. Then you have Bellerin who pretends to be a big Arsenal man, but is just a shadow of a youngster who had one good season and lives off it for years now at our club.
The jury is still out for Tierney as he was signed injured, was supposed to be our Number 1 left back, but then again Unai Emery, so enough said there. And finally you have a keeper who's made the most saves in the league, but that's not that difficult when you are trying to play out of the back with players who lack the ability to do so.
Try playing with Arsenal on FIFA 2020 and put a formation that fits this squad and you'll see it's difficult not to play someone out of position. The next manager has a monumental job at hand, but even so, remember that we take the lead in most games and then we throw it away. So even with all these problems we're still better than what we achieve, we're just so low on confidence and so toxic and negative it's impossible to win a game.
I've said all I can. If Emery is at the bench at Norwich, we're so screwed. I am not watching another game until this clown is out of work. I just can't take it, and if for some reason he's at Norwich the banners should be Kroenke & Raul out. I'm still willing to give Edu a chance, because he's the one person who has actually done something for this football club, but I do want to remind you Overmars snubbed us in the summer.
Is Edu here because he's the only one who was willing to take the job? Is he the best candidate? I do not know, but if he sits there and thinks like Emery that we're improving, he should be out of the door with him. Enough is enough people, we do not deserve this. So tell me, when does this end?
Konstantin