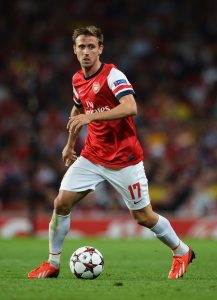 Arsenal players and fans are full of euphoria after our demolition of Tottenham in the North London Derby, but one swallow does not make a summer, and right now all the team should be focusing on is winning next weeks game at Burnley, while the reserves should be concentrating on the tough away game at Koln on Thursday night.
This is not my opinion but the words of Nacho Monreal, who came back from injury to score our opener against Spurs this weekend. "What we all want is for the team to maintain this dynamic in the coming games," Monreal said to IBTimes. "We are a team that when we are playing well, when we are focused, when we have solidarity … we are very hard. It's tough to play against us. It is true that we have this fault: we are a bit inconsistent. We are able to play two, three games at a very high level and then we have a dip. If we were more consistent we would be fighting for more things at the end of the season. But the win over Tottenham gives us confidence for the coming games.
"I think we don't have to be obsessed about setting a certain target. We go match by match. The target was to beat Tottenham and now the next one is to do the same in the Europa League. When the months of January, February arrive, we will see where we are and what we can achieve. We aim to win everything but we can not become obsessed. In previous seasons we arrived at January as Premier League leaders, it seemed that we were going to win the title and in the end we suffered a blow."
Maybe he is right, as we have seen many times that Arsenal get a nose bleed when they have a chance to go top of the League, or face crusial games in our season. Maybe if they just concentrated on winning each game, like they did in spectacular fashion against the Spuds, we could be practically unbeatable!
Darren N