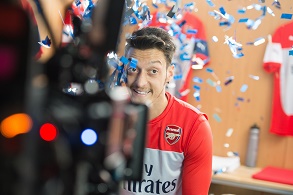 As most UK Arsenal fans know by know, BT Sport are taking over from Sky's coverage of the Champions League next year so they have brought in some Arsenal players to promote the fact. There will be an ad from Arsenal's dressing room going out soon and they have given us this EXCLUSIVE BT SPORT Q&A from the Arsenal players that have taken part.
So here we go. First up we have Mesut Ozil:
Which player are you most looking forward to playing against in this year's competition?
I'd like to play against Real Madrid, against my old friends. And then I'd get to see Ramos, Benzema and Ronaldo.
Who has been your toughest opponent, individual and team, in the Champions League?
It's difficult to say because there are a lot of teams involved in the Champions League, teams who have very good players in their ranks. And so that's why I think it is always difficult to play against any team that has qualified for the Champions League.
You've won the ultimate prize with your National team at the World Cup. What would it mean to win the Champions League with Arsenal?
Well winning the World Cup is obviously the pinnacle for us players because it's the biggest event in football. Among clubs, the Champions League is similarly the greatest title available and at Arsenal our aim is to win this title and I want to win it as a player. That's why we want to do everything in our power to fulfill this objective along with winning more domestic honours of course!
Next up they had a few words with our captain Mikel Arteta…
Who do you think will be the most influential players during Arsenal's Champions League campaign?
It is very hard to find anyone other than Messi and Ronaldo. I think they will be the two outstanding players again. For Arsenal, I hope one of the strikers will be influential which means we score lots of goals and we're going to have a good chance to go very far in the competition.
Which opponent's fans have generated the most impressive Champion's League atmosphere?
Dortmund is one of the best grounds to go to. It has one of the best atmospheres. Places like Turkey are very passionate. But if I had to pick one ground it would be Dortmund, it's an incredible atmosphere and they make it very hard for you.
As a player who has made over 50 appearances in Europe, what advice would you offer the younger players at Arsenal?
Just recognise and realise the opportunity they have to play in such a big competition and play with freedom. When they play at this level it means they are good enough to be here so they shouldn't be afraid of anything.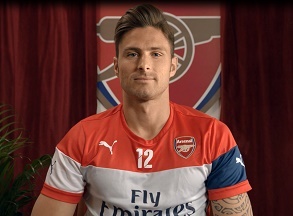 Next it was Olivier Giroud's turn to speak…..
What sort of influence do you think you can have on Arsenal's Champions League campaign next season?
I don't like to speak about myself. We will try to do much better than last year but all together we're going to do the job.
With the attacking options available to Arsene Wenger, do you feel Arsenal can become one of the best attacking sides in Europe?
Of course, if we have everyone ready and without injuries we can have a great attack. We have shown this before in the Premier League and in the Champions League.
Who has been your toughest opponent, individual and team, in the Champions League?
Bayern Munich, even though we have beaten them two times. They're a great team, they play well together and they have experience of the Champions League.
So I am sure there will be a lot more promoting of the Champions League before next season begins. At least we don't have the worry of the Qualifiers and we can just look forward to the draw for the Group Stages. Let's hope we don't get Bayern Munich and Real Madrid as our Group opponents!
Next season, BT Sport Europe is the new home of top European football, with all UEFA Champions League matches and all UEFA Europa League matches exclusively live on BT Sport. Visit btsport.com.
You can watch the new funny BTSport ad here on our GALLERY page…