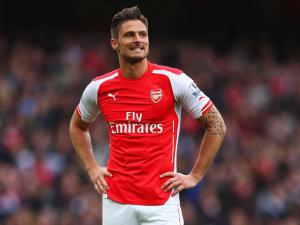 There have been many recent rumours regarding Arsenal players with all the uncertainty around the club at the moment, but there was very little said about our French striker Olivier Giroud, who has recently signed a contract extension with the Gunners. But with many reports saying that Arsenal are trying to sign a new top-class striker for next season, it has been mooted that Marseille were ready to offer £20 million to take him back to France.
But now Giroud's agent has issued a denial that the centre-forward has any interest in leaving the Emirates, although that may change if a new manager comes in to replace Arsene Wenger. Michael Manuello was quoted as saying: "There was talk that Olivier was in contact with Rudi Garcia.
"I said that that was false. There is no contact between Marseille and us. At this point, there is no contact.
"Things have not changed since his contract extension. Our desire is be at Arsenal long term. Olivier has been there for five years.
"The aim for Olivier is still to go as far as possible in this adventure with Arsenal to do great things there."
"When we know exactly what Arsene Wenger is doing, we will ask ourselves questions,"
"We will think about what is possible and what is not possible.
"Today when Olivier and I talk, there are no discussions about other projects. His future is not only linked with that of the manager.
"It is linked to what Arsenal are going to do and if there is a change at Arsenal in terms of how Olivier is implicated at the project.
"At some point, if the two are to separate, we will see."
There are many Arsenal fans that think Giroud has had enough chances with the Gunners and should be moved on regardless, but Wenger has made it clear that he wants Oli to stay. So it looks like the only way we will be getting rid of him is if Le Prof leaves….
Admin