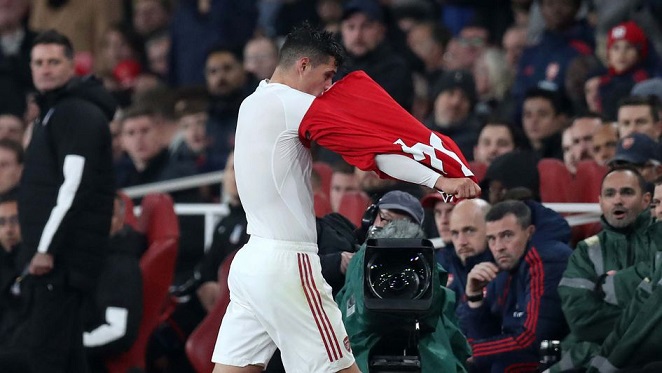 Pierre-Emerick Aubameyang the new Arsenal captain after Granit Xhaka meltdown.
It had to happen, it was untenable that Granit Xhaka would remain the Arsenal captain following his clash with the fans during the 2-2 draw with Crystal Palace.
Unai Emery has confirmed that Pierre-Emerick Aubameyang is now the new captain of Arsenal.
If Xhaka had come out immediately and apologised then he may have hung onto the captains' armband but his later statement lacked contrition and the writing was on the wall from that point onwards.
This will be music to the fans ears who were absolutely furious with the 27-year-old. There is now a huge question over his future at the Emirates.
Xhaka has not been named in the squad for the game against Vitoria and we may never see him in an Arsenal shirt again.
It is hard to see a way back for the midfielder, he was not a fan favourite before the confrontation. It really is difficult to see how he can rehabilitate himself in the eyes of the fans.
To some degree, this is a testament to fan power. They were never happy that he was named the captain and showed their displeasure almost from the minute he was handed the role.
How this all ends is anyone's guess but it would not be a surprise to see him sold in January.
He may even force the issue himself and hand in an official transfer request.
One thing is for sure, no one comes out of this looking good. Not Unai Emery, not the fans and certainly not Granit Xhaka.