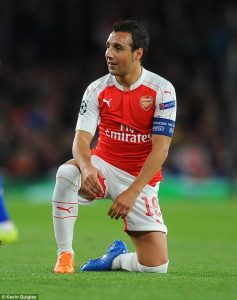 Ahead of the crunch time for Arsenal of December, when the Gunner's freshness and superior fitness should give us an edge over our title rivals, we have a very small list of players on the treatment table. Of course the one player that has been on there for longer than anyone else is our little genius Santi Cazorla, and the latest news that he is set to go back to square one after yet another operation is surely the last straw in his bid to play for the Gunners again.
Wenger revealed his distress on hearing the news. "I sent him a message because he had a new surgery and wished him well," said Le Prof. "He answered 'look I have to start again, from zero basically' and it is very sad, honestly. What he has gone through this guy is unbelievable. We speak about players being happy or not happy, that is a real pain because it is really, really sad but unfortunately he has to start again from zero.
"That means if all goes well he has to wait until he can run and after when he starts to run it will be at least six weeks to come back to training. When he will be able to run again I don't know.
"I was hopeful of January but after, he had this setback that everybody knows about.
"I hope so [that Cazorla will play again]. But certainly not before February."
I seriously doubt very much he will play again, but I am secretly hoping that Santi can come on in the last minute of our last home game just for the memories. He deserves a hero's send off…
But now it is looking hopeful that the final game of the season will not be Mesut Ozil's last for us as well, as it is being reported that there has been a breakthrough in his contract talks with the promise of a three year deal. I am sure it is going to cost Arsenal a fortune to secure his services but if he can keep performing at his recent levels then it will be worth every penny.
The German midfielder, who has just won the  Player-of-the-Month for November with more than half the votes, will give the club a nice Christmas present if we can get him signed up quickly. We've only been waiting a year!
Admin