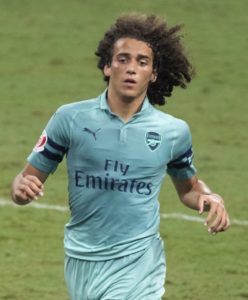 When we look back on this game further on in the season the records may say that Arsenal lost Unai Emery's first game against Manchester City, but there were positives along with the heartache. The debuts of Lichtsteiner and Torreira were very promising and Sokratis can only improve but looked determined. But the best debut of all was by the 19 year-old Matteo Guendouzi who looked mature far beyond his years in his first ever big game as a professional.
He made a few mistakes but he wasn't perturbed and he retained his confidence throughout and wasn't overawed by the opposition or by the intense atmosphere at the Emirates. Martin Keown was also impressed with the youngster. "Guendouzi the 19-year-old was playing in there and I thought he was quite brave," said Keown.
"Things didn't go well for him at times but he showed a good energy.
"He showed that he really had that character and he didn't hide."
To come from the French Ligue 2 is a massive step up in class, but Guendouzi was in the starting line-up deservedly after impressing Emery in our pre-season games. He also expressed how comfortable he felt with his new team-mates after greeting the players coming off the pitch at half time during the friendly game against Chelsea in Dublin. He said: "The most important thing is for a team to stick together and to really operate as a unit,"
"That's not something that comes naturally to everyone. It's about everyone having a common objective, that we all want to achieve together. For me that means giving my team-mates encouragement.
"That helps me get into the game and feel close to my team-mates. With them I know I can go into battle."
"I'm a cheerful person, and there's a real 'joie de vivre' in the team – a great atmosphere," he said. "It's allowed me to really be myself with my team-mates, to have a laugh and make jokes.
"But you also need to remember when it's time to be serious in training. I've been able to balance both sides in that respect and so far things have gone really well."
It sounds like he has a great attitude and will be an asset in the dressing room as well as out on the pitch. Despite this only being his first game, he already looks certain to grow into an Arsenal star in the coming seasons. I'm still finding it hard to believe he is only 19!
Admin