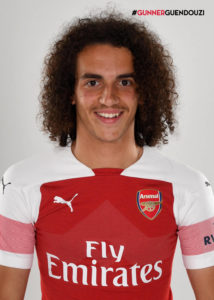 Not many Arsenal fans would have heard of Matteo Guendouzi before this last week, but the young French lad has obviously heard about Arsene Wenger and Arsenal's French revolution as it started before he was even born! He would know players like Thierry Henry and the hundreds of other players from his home country that became famous playing in the red and white jersey.
He old Arsenal.com on joining the Gunners: "It's something I'm immensely proud of. Arsenal have always been the team closest to my heart and a side I've wanted to join since I was a child. It gives me great pride – it's incredible. I hope I can do great things here. It doesn't get any better than coming to a club like this, with so much history, like Arsenal. I'm hugely proud.
"My hope is to become a top player here at Arsenal. A lot of great players have played here. I want to become part of the club's history and to achieve great things here. I want to win titles, titles, titles. I want to establish myself here, which would be amazing. Winning silverware, as I said, is very important to me and winning things here at Arsenal would be incredible."
Now this is the type of player we want at Arsenal, who has the ability and the ambition to do great things with our club. I like him a lot already!
Admin