The news of the former Arsenal and France international star striker Thierry Henry announcing his retirement from football, or the playing side of the game at least, has quite rightly dominated the football media today and produced plenty of debates about where Henry stands in the pantheon of great players.
Some will argue that he is not even the best Premier League striker ever after Frank Lampard equalled his goals tally of 175 EPL goals the other day and is likely to surpass it soon enough, with Wayne Rooney, Andy Cole and Alan Shearer also having scored more.
Frank's achievement is fantastic, especially for a midfielder, but he did take 588 games to get there, while Henry took just 254 games. All those others played their whole careers in England and only Shearer's overall record compares with the great Gunner.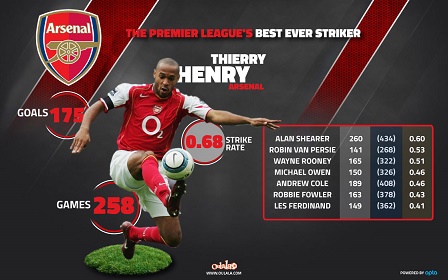 Graphic supplied by Opta powered fantasy football game www.oulala.com
Looking at it another way, Henry scored his Premier League goals at a rate of one every 122 minutes. The next best of players with over 100 goals is (through gritted teeth) Robin van Persie every 137 minutes, then Shearer with 147 minutes, Michael Owen with 154 minutes and our own Ian Wright with 157 minutes.
That makes Henry the clear winner, but Arsenal fans already knew that. It was not just his goals that made him great though, it was his style, skills, attitude and everything. So let us know what your own favourite memories are of Henry, possibly the greatest player we will ever see playing for Arsenal. Here is a little video to get you going.