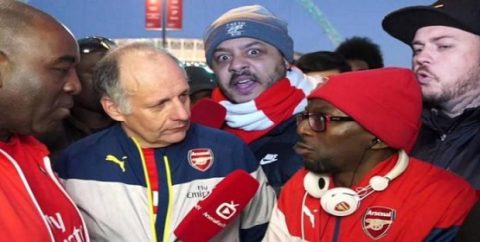 Has Arsenal Fan TV Encouraged Positive Changes for Arsenal?
The only thing more depressing than watching Arsenal slump to an unexpected defeat is taking in the reaction on AFTV afterwards. Robbie Lyle heads out with his microphone and gives angry, ineloquent men a platform to rant – and just enough rope to hang themselves. Nobody bothers with this channel when Arsenal win, but it goes into overdrive after a defeat. Rival fans rub their hands with glee as they reach for the popcorn and prepare to watch meltdown after meltdown from furious Gooners that often talk like they stumbled out of a grime video.
Nobody watches it for depth of analysis. They are simply looking for a car crash moment, and the likes of Troopz and DT are all too happy to oblige. Troopz will stare into the camera, spout poisonous bile and inject the words "fam" and "blood" into his diatribe at every possible opportunity. Regular contributors veer from pitiful laments to intense vitriol, and rival supporters lap it up. AFTV is an embarrassment to the club, making it more of a laughing stock than it has already become, and many fans would be delighted to see the back of it.
It is worth noting that Lyle's intentions when setting it up were laudable. Before he came along, fans did not have much of a platform to air their views from, as former players and other pundits dominated the narrative. He wanted to give a voice to the supporters, the people that spend their hard-earned cash on tickets and merchandise and keep it afloat.
However, it has taken on a life of its own and that is due to the colourful characters that populate the show. The most epic rants have racked up north of 2 million views on YouTube and it has turned into a huge money-spinner for Lyle. It is estimated that he is pulling in more than £400,000 a year, so he has no intention of changing a winning formula. Yet that simply means that clowns like Troopz dominate the narrative, and it hardly seems representative of the 27 million people that identify as Arsenal fans.
In fairness, Lyle does speak to a decent cross-section of fans for his videos, but the only ones that gain widespread attention are those that appear in the aftermath of defeat, and that is when the blood fam brigade is wheeled out in all its snarling glory. It gives the impression that Arsenal fans are moronic hooligans, and that is simply not the case.
Many Gooners are eloquent, intelligent individuals that could actually break down the reasons behind the failings, express their disappointment, sorrow, frustration and anger, and speak constructively about the change that needs to be made in order to improve the situation. Yet they are not the faces of AFTV. It risks become a mere vehicle for attention-seeking plastic gangsters that simply pile more misery on Arsenal fans after embarrassing defeats through their ridiculous antics.
Arsenal supporters have every right to be furious with the way in which the club has been run recently. Stan Kroenke has not invested a penny of his own money in the club, whereas Man City's owners have invested £1.3 billion in turning it into a Premier League winning powerhouse. His attendance record is abysmal and he has emerged as a mere absentee landlord, content to treat the club as a cash cow. Ticket prices continue to increase, while the quality of the football diminishes. Arsenal have just finished below Spurs for the third consecutive season.
St Totteringham's Day has been consigned to the history books. Chelsea ripped them apart in the Europa League final. A late season collapse saw their top four bid derailed in spectacular style. The other teams in the so-called Big Six look better equipped than Arsenal to challenge for silverware next season, and it is hard to imagine the Gunners making great strides over the summer due to a lack of funds. Punters will find thousands of markets on the 2019/20 season and none of them paint Arsenal in a flattering light.
Fans need to challenge Kroenke and the Arsenal board. They quite rightly feel as though they are being ripped off. Yet having such buffoonish characters fronting the effort undermines it. The board can easily dismiss the ludicrous rants of DT as the ravings of an imbecile that speaks for the minority. By giving oxygen to more sensible people, AFTV could pile far greater pressure on the club to effect change. But that would probably not draw millions of views on YouTube and it would not help Lyle's bank balance much.
And so the show will go on. Arsenal's steady descent into mediocrity will continue, while Kroenke holes up in his Colorado ranch, counting his cash. Embarrassing defeats will keep happening. "AFTV is going to be brilliant tonight!" rival fans will write on Twitter. Troopz will say fam a hundred times as he lays into the club, and Arsenal's former reputation as a classy organisation will be further eroded.
AFTV has added nothing productive to the club, nor has it ever encouraged positive changes. It is just another source of embarrassment for the majority of the long-suffering Arsenal faithful, and it will not change until the Gunners are good again. And that is unlikely to happen until Kroenke goes, but AFTV certainly will not be the one to push him, as it too easy to dismiss the show as a pantomime.
Marco