Once again last night in the FA cup quarter-final at Old Trafford, Mesut Ozil put in a real shift for Arsenal. It may have gone a little bit unnoticed in the fast and furious game, especially as a lot of the German's work is done running off the ball, creating space and linking the play, but his display was yet another slap in the face for his critics.
The thing is, Ozil still looked languid and as if he was out for a kickabout in the park, but that is just what he looks like. Surely his critics will have to stop using that against him, because the stats prove beyond a doubt that Ozil is far from lazy.
In fact, a report in The Telegraph has revealed that Ozil has covered more distance than any of his team mates since he made his first Premier League start against Aston Villa on February 1st.
It has not just been aimless running around either because there have been three goals and seven assists from him this year as well, despite the fact that he has often been asked to play in his less favoured wide position. The amount of work done all over the pitch by Ozil is highlighted in this heat map of his game against Everton recently, a game in which he topped the list of hard working Gunners.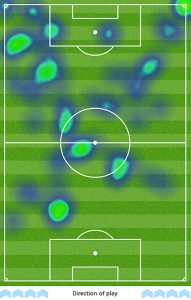 Our club record signing was also the only Arsenal player in the top five runners in that awful Champions League defeat by Monaco, so to say he is lazy and disinterested is just not true. It may have taken some for him to get up to speed in the EPL but we cannot keep slating him for that can we?