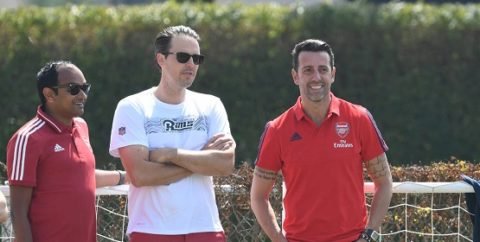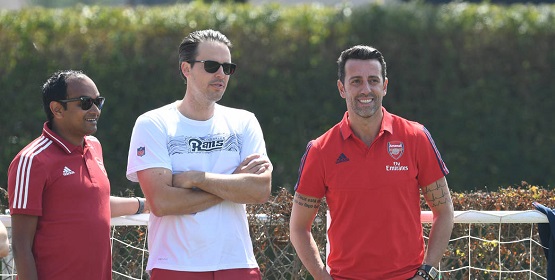 THE TWELFTH MAN by Aaron
IT ALSO HURTS JOSH.
I think those who coined the saying that "look before you leap" were really wise and must have had people like Josh Kroenke in mind. It has been a long time since I last wrote anything related to my favorite football club Arsenal but after coming across what Josh said concerning Arsenal football club I couldn't help but scribble my thoughts on my phone.
Let me start by saying that it also hurts to admit that the Golden trophy holders have become perennial punching bags.
I read with a deep sense of anger, sadness and shock. Some of the comments made by the son of Stan Kroenke, the majority shareholder of Arsenal FC, in response to a petition by fans demanding recognition for being interested and passionate stakeholders. I can't believe a man who is supposed to realize that the twelfth man at Arsenal is key to the growth and continued existence of the brand called Arsenal is so disrespectful. Its is strange that instead of choosing his words wisely he publicly chose to prove his contempt for the people who sacrifice their hard earned money to oil the machine we affectionately call the Gunners.
I know its natural for a man to drift into the defensive shift when he is being accused of doing everything wrong ,but it's so wrong for a man who took over a successful club to be ignorant of what the most important man for the club thinks or feels about the Club. Since 2004 a lot has happened to suggest that the Kroenke's treated Arsenal as an investment vehicle. We all know about the years of austerity when the club had to operate on a very thin budget, but the stadium debt which brought the austerity measures has been paid up.
Josh needs to be reminded that Roman Abramochich came and invested in Chelsea and they have been very successful on the pitch and in financial terms. I know that the terms and objectives for investing may not necessarily be the same for both Roman and the Kroenke's but there is a need to respect the real owners of the football clubs, the fans. Stan may claim he doesn't have oil money like Roman, but the truth is he came to Arsenal because it was a big brand. It is an open secret that big brands are big because there are millions of consumers for that brand..
Can someone please ask the Kroenke's if they would have been interested in Arsenal had it not been able to attract huge numbers of people to the stadium.. Can someone please ask Josh if the Kroenke Sports & Entertainment group would have been interested in investing in the Arsenal brand if the club had no history of success.. It is really disheartening to realize the level of hypocrisy that Josh exudes… I am not one of those who have the financial capacity to be a season ticket holder, but I derive emotional benefits from being just an armchair supporter of Arsenal football club.. Josh says he is not in the business to make friends but to win, how convenient for you to say Josh.. You say that the club has a UCL wage bill in Europa but that's just pub talk..
We lost RVP when the team was still participating in the UCL which proves that all you are saying about being in the business to win is nothing but a pure fictious claim Mr Josh. I am not trained in the field of public relations but I think there was need to just assure the fans that you are committed to turning around the situation and make Arsenal great again. Choosing to go against the wind being blown in your direction through a petition by fans demanding that the Kroenke's show respect for the fans is ill-advised Mr Josh. It's time you prove your claim that you are in the business to win. You will definitely lose the war with fans unless you will be happy to pay for empty seats in case the fans who signed the petition to force the contemptuous response from your mouth is anything to go by. It will be sad if the antagonism you are trying to create with the fans continues.
Your obvious disregard for the twelfth man who has remained loyal despite the mediocrity which has become synonymous with the name Kroenke should be extinguished through real ambitious actions, in sync with the winning team which we all crave for..It will be sad to see Arsenal becoming a shadow team for you know who……..
Loud Thoughts From Africa.
@Amagore #ZimArsenal
Aaron Magore