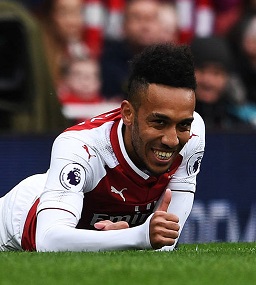 The Gunners were up against it in Milan on Thursday but Arsenal managed to confound everyone by taking apart the inform AC Milan side that have been rejuvenated since Gennaro Gattuso was made manager in December.
But Arsenal were equal to today's challenge as well and made mincemeat of Watford at home. Amazingly it was Mustafi who got our 1000th goal, but the next two were down to our new superstriker Aubameyang and his attacking partner Mhkitarayan, who both got a goal and assist each as they linked up excellently.
It was PEA's third goal for Arsenal and he took it superbly, and after the game he said that he felt that he and the team around him, had finally got their confidence back. "Yes, it's starting to come," he said. "Today was a great team effort. I think the confidence is back I think, for me as well. I am feeling better and I have to thank my team-mates."
This was only the second time Aubameyang has tasted victory since coming to the club, but he's confident that tough start is behind him now.
"Of course it's not always easy to come in into a new team and integrate into the group, everyone knows that," he said. "So it was a difficult moment for the club, but now we are back on form, and that's good for us."
Aubameyang is inelegible for the Europa League, but Mhki is going for his second win in the competition after succeeding with Man United last season. Surely if we carry on playing like this we should become one of the favourites to win it again?
Admin